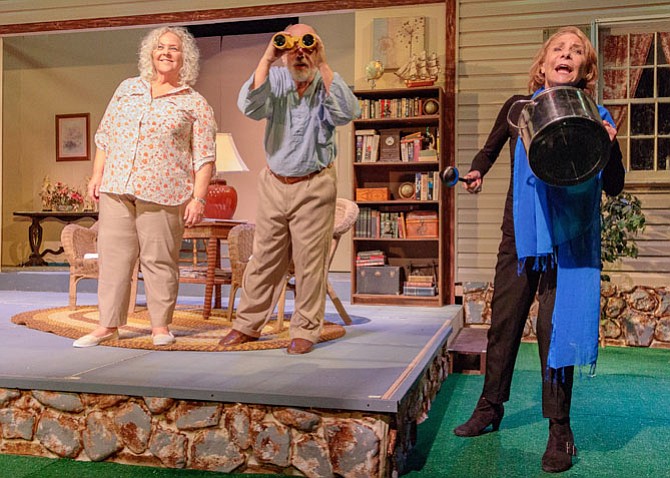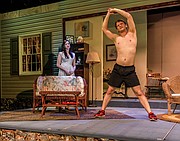 The Little Theatre of Alexandria (LTA) is presenting "Vanya and Sonia and Masha and Spike" now through Nov. 11. The winner of the 2013 Tony Award for Best Play, the story follows middle-aged siblings, Vanya and Sonia, who live together in present-day Bucks County, Pa., in the only home they've ever known. Without warning, their sister, Masha, who happens to be a movie star, stops in for a visit with her much younger boyfriend, Spike. The clan works out their differences about potentially selling the family home.
Mario D. Font is playing the role of Vanya, the oldest brother. With his adopted sister Sonia, they have lived in the family home in Bucks County their whole lives and spent the last years caring for their elderly parents who had Alzheimer's Disease.
"The parents have died by the time the play starts, but both Vanya and Sonia realize over the course of the play that they've had no life other than caretaking," said Font. "Vanya is gay, and is intrigued by Masha's [the middle sister] boy-toy whom she brings with her to the family home for a weekend visit. The siblings revert to their established patterns in their relationship over the course of the play [the weekend] and that creates both comedic and poignant moments."
The four-page monologue in the 66-page play was his biggest challenge, he said. "It's a rant, but impossible to rant for four pages, so I struggled finding the right rhythm and moments where it was appropriate to rant. Howard (our director) was a Godsend helping me navigate through this challenge."
He added, "In comedy there is drama, and in drama, there is also usually comedy. For those audience 'of a certain age,' I hope they recognize some of Vanya's frustration with modern technology and today's lack of shared experiences. For the other part of the audience, I hope they can gain a better understanding of what life was like before cell phones, texting, tweeting and emailing."
Hannah Lee Grothaus is playing the role of Nina, an enthusiastic, hopeful, and artistic young woman. "Her hopeful and optimistic nature helps a few of the characters in this show see the brighter possibilities for their lives ahead," she said.
The show is full of zany, comical Christopher Durang charm, she said. "And while it's wonderful to get to play with such a script, it can be a challenge to find the reality in it," she said. "To dig in to the core of the characters and scenes, and despite the outlandish circumstances they may find themselves in or things they may say, find a way to play it as real life."
She wants the audience to take away a sense of hope for the future, she said. "This play is so relatable — from the scary changes happening in the world right now to the drama that pops up in any family. If the audience leaves feeling a bit more warm and hopeful inside (along with some sore ab muscles from a good laugh or two) I think we'll have done our jobs," she said.
Marilyn Pifer is playing the role of Cassandra, who allows her to be wacky. "Cassandra is good-hearted (if a bit of a nut), and that's a very nice change," she said, because the characters she's played in her last three shows have been somewhat evil.
With this role, she's had to stretch farther than usual to develop her character and her back-story. "I've never known anyone quite like Cassandra. Fortunately, the playwright gave me a lot to work with," she said. "I also needed help on her gentle Pennsylvania Dutch accent, which Howard, our director, was happy to give."
She hopes that the audience finds a situation or character in the show that they can relate to. "This very funny show has many tender moments and serious themes. If we as a cast treat those moments with both humor and respect, we'll connect with our audiences and make them all feel happy they spent a couple of hours with us," she said.
Lorraine Bouchard is playing the role of Sonia, a smart woman who is lusting for life. "But she became numb from years of caring for her adopted parents who had Alzheimer's. She is sad about her dull life, but her frustration and jealousy finally light a spark in her and give her the energy to burst out and take a risk," she said. "I love that she is both vulnerable and snarky. I want audiences to feel her frustration and cheer for the happy, hopeful ending."
The Little Theatre of Alexandria (LTA) is presenting "Vanya and Sonia and Masha and Spike" now through Nov. 11. The show is written by Christopher Durang, produced by Genie Baskir and Elissa Hudson, and directed by Howard Vincent Kurtz. Tickets are $19 and $22. Show times are Wednesdays through Saturdays at 8 p.m.; Sunday matinees at 3 p.m. The venue is located at 600 Wolfe St., Alexandria. Call the Box Office at 703-683-0496 or visit the website at www.thelittletheatre.com.