Fairfax — Featuring a cast and crew of 70, Woodson High's Cappies show, the musical
If you go…
Show times are Nov. 4, 9, 10, 11 at 7:30 p.m.; and Nov. 5 and 11 at 2 p.m. Tickets are $12 at the door or via www.wtwdrama.org; matinees and senior citizens, $5.
comedy "Pippin," will burst upon the stage Nov. 4-11 in the school theater. It tells the story of Pippin, a prince trying to find his own way in the world. But it's also a story within a story.
"We're doing a 1930s soundstage of people filming a movie of 'Pippin,' which is set in Medieval times," said senior Paul Hardin, the student director who created the show's concept. "It chronicles his different adventures on his journey. In other versions, it's been about people doing a play or being in a circus. But I thought of setting it during the classic era of movies in the 1930s."
The sets will show a Hollywood soundstage with director's chairs and a camera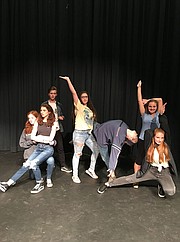 on the side, plus a castle with a tower where Pippin lives. In Act II, the castle will spin around to become the home of Pippin's love interest, Catherine. And in certain spots where the story switches from Pippin to the Hollywood actors, the film set's buzzer will sound to signal the change.
"We have a super-talented and dynamic cast that will tell the story well," said Hardin. "Lots of people know the story of 'Pippin,' and I think they'll be intrigued to see our new take on it."
DIRECTOR TERRY HOBSON says the cast works well together to do what's best for the show, and many of the students are in both theater and chorus. She also praised the show's pianist, senior Hunter Browning, saying, "He's an excellent musician and the show wouldn't be where it is, musically, without him. It's deceptively difficult music. At times, there's five-part harmony, and a lot of it is ensemble singing."
Senior Mackenna Gordon choreographed nine of the numbers. "She's very imaginative and used lots of different dance styles," said Hobson. "She also utilized the strengths of each cast member." She said audiences will also appreciate the power of the singers. And, she added, "It's obvious that the actors are enjoying what they're doing, so the people seeing them will enjoy it even more."
Portraying Pippin is senior Jack Hopewell. "Pippin's trying to find his purpose in life, as is the actor playing him," said Hopewell. "They believe that'll give their life meaning and happiness and make them remembered. Pippin is King Charlemagne's son, so he thinks he wants to be a soldier. He goes to war with his father, but is horrified at what war is like."
Then, after getting advice from his grandmother, he tries debauchery, but over-indulges and realizes that doesn't make him happy, either. "So he decides to become king and overthrows his father, but ruling is a lot harder than he expected," said Hopewell. "So he leaves for another adventure, during which he meets his love, Catherine, and learns that innocence and a simple, family life are the keys to happiness."
Hopewell says Pippin isn't always the best person, but "He's young and figuring things out, and his good intentions help me connect with him. And at my age, I can relate to trying to figure out what to do. It's fun to portray his youthful energy and show him growing up as the play progresses."
"Morning Glow" is Hopewell's favorite number because "It's a beautiful song with a wall of sound by Pippin and the ensemble. And it symbolizes rebirth, hope and the start of something new. Audiences will appreciate our talented cast. Everybody brings a special, unique energy to their characters, and people will be impressed by our set."
SENIOR KARLEE SKAGGS plays Catherine. "She's sarcastic, self-aware and tongue-in-cheek, and I love that about her," said Skaggs. "She's a widow with an 8-year-old son played by an actual 8-year-old, Aidan Brennan. She's not the normal love-interest because she's so blunt and sarcastic toward Pippin. At the end of her solo, 'Kind of Woman,' she sings, 'I'm just a plain, everyday, commonplace, come-what-may, average, ordinary girl.' And I love that she equates all those things with being wonderful."
Skaggs said the play's underlying message is that "You don't have to do something extraordinary with your life to lead a fulfilling one. So 'Pippin,' as a whole, equates commonplace with wonderful. And I aspire to be that kind of woman that encompasses goofiness, sarcasm and also maturity and accountability, so that's why I like playing her."
Calling this musical's humor dry and slapstick, she said seeing high-school students deliver that kind of comedy adds "a whole, other level of hilarity. This play is both dark and glittery – it pulls at your heartstrings, but you're laughing at the same time."
Freshman Elizabeth Vichness is an ensemble member, an actor (called a player) in the movie and a soldier. "As a player, my character is excited about everything and jumps up and down a lot," she said. "As a soldier, I do some slow-motion stage combat, plus cool dances."
"I like dancing, and lots of the songs are really fun," she continued. "I especially love 'Glory.' It's a haunting number with a lot of minor chords, and all the harmonies stack up on each other, and I really like how that sounds."
Vichness said there are lots of little jokes in the show that the audience will enjoy. And, she added, "The music is pretty upbeat and will get stuck in people's heads."