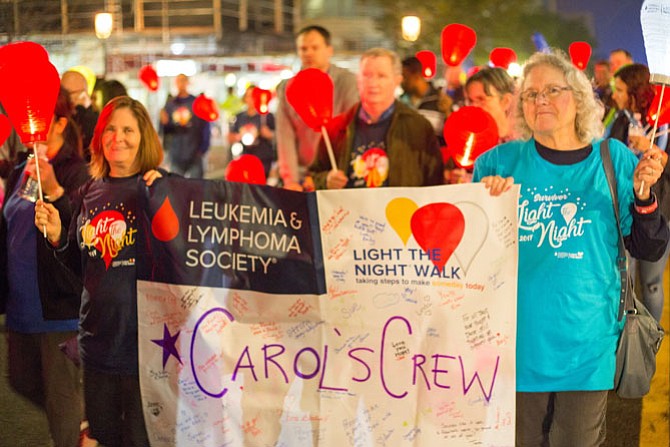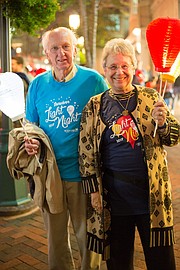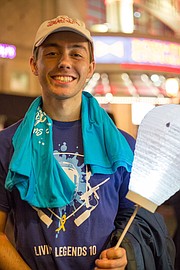 Friday night, Reston Town Center was full of people holding red lanterns in solidarity for the 1.2 million Americans who battle blood cancer. Between the red lanterns were white ones held by cancer survivors. Through sponsors and private donations, the Leukemia and Lymphoma Society sought to raise $3.5 million for fighting cancer with the walk.
As of Friday afternoon, lightthenight.org had raised over $614,000 toward the cause.
Alex Ivlev, 18, of South Redding and a freshman at George Mason University was one of the survivors in attendance at Light the Night. "The fact that we are raising a lot of money is important. Every dollar counts," said Ivlev.
He survived leukemia and held a white lantern with a light blue survivor shirt draped across his shoulders. "I have a personal connection and it's what I want, getting rid of a disease that's terrible to go through," he said.
Other cancer survivors were also encouraged to join a survivor's circle before the walk began.
David Macurdy, of Reston, a kidney cancer survivor was also at the walk with his wife, Donna Macurdy. "Leukemia is a nasty disease," said David Macurdy.
"We have a friend who is still suffering from Acute Myelocytic Leukemia. So we are running for him. He was just diagnosed," Donna Macurdy said.
People who had lost family members or friends came to the walk or to support those walking for their corporate sponsors who had helped fund the event.
Natasha Molina, of Ashburn, who works for the Department of Labor was at the walk with her 2-year-old son Killian Hale. "I walk for a cure, and so we can celebrate more birthdays and less funerals. I walk so that one day good-bye is a little further away," said Molina. She prepared this speech to fundraise for the event and joined the day of the walk.
"I raised over a hundred dollars in one day," she said.
Carol Kasson and her friend Paula Kone, a Burke resident, carried a banner that said, "Carol's Crew." Kasson had Non-Hodgkins Lymphoma and is still alive today because of a stem cell transplant.
"It's sad and uplifting at the same time and it touches all of us," said Kasson.