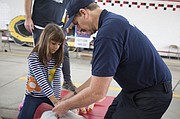 In celebration of Fire Prevention Week Oct. 8-14, all Fairfax County Fire and Rescue Department stations hosted open houses on Saturday, Oct. 14, where the public was invited to meet their local firefighters.
Great Falls Station No. 12 Fire Chief Douglas Wessel and his firefighters, paramedics and emergency medical technicians were on site to show off their vehicles and equipment and teach children and grownups alike about fire safety.
"Hopefully, the kids will be less afraid of it if they ever have to go," Sarah McMichael, a volunteer EMT with the station, said of leading children through a tour of one of the ambulances. "And we make sure they know the number to call for emergencies."
The National Fire Protection Association, a global nonprofit organization that develops fire, sprinkler and electrical codes and standards, has a goal of eliminating death and injuries from fire, electrical and related hazards. In that effort, it develops educational programs to inform the public about the adoption of codes and safety issues.
NFPA has advertised Fire Prevention Week since 1922. This year's theme was, "Every Second Counts: Plan 2 Ways Out!"
"If your first exit is blocked, you have a backup plan," Wessel said. "Depending on where the fire is, the second may be safer," which he said he has seen in practice "many times."
Evacuees could have less than two minutes to escape to safety after smoke alarms sound, according to the NFPA. Here are the key messages to the NFPA's annual campaign for preparing an escape plan:
Draw a map of your home with all members of your household, marking two exits from each room and a path to the outside from each exit.

Practice your home fire drill twice a year. Conduct one at night and one during the day with everyone in your home, and practice using different ways out.

Teach children how to escape on their own in case you can't help them.

Make sure the number of your home is clearly marked and easy for the fire department to find.

Close doors behind you as you leave — this may slow the spread of smoke, heat and fire.

Once you get outside, stay outside. Never go back inside a burning building.
A "Plan Your Home Fire Escape" mini-lesson can be downloaded from the NFPA's website at www.FirePreventionWeek.org.