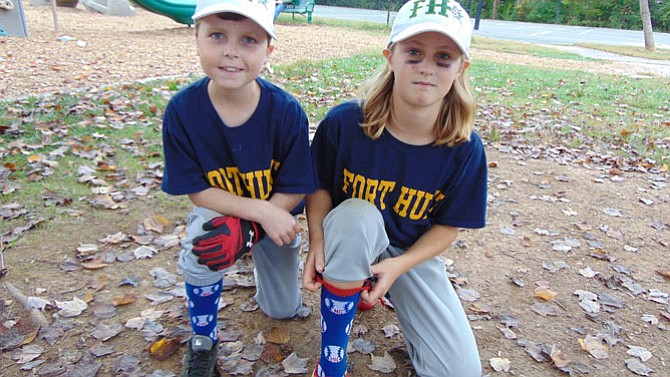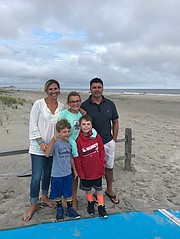 "Those kids have learned a lot about compassion, friendship, and loyalty. It came instinctively. They just know how to treat a friend." — Maureen Beddis, MEE team captain
Michael Erlandson, 9, of the Waynewood community in Alexandria was diagnosed with leukemia in May 2014 at the age of 6. He spent 150 days and nights in the hospital getting treatments in his first year. And now after 185 weeks, he won't have any more treatments because his blood cancer is in remission.
Next Saturday, Oct. 21, Michael will be one of the Honored Heroes in the Leukemia & Lymphoma Society's (LLS) two-mile Light the Night Walk around the National Mall in Washington, D.C. That means his story of survival will serve as an inspiration to others in the LLS community affected by blood cancer.
For the past three years, his "Walk with MEE" team has rallied alongside Michael and raised $70,000. This year, their fourth, they are hoping to bring that number to $100,000, according to Maureen Beddis, 41, the MEE team captain and friend of the Erlandsons from Waynewood. They're currently at the $13,651 mark for donations on the website, with a goal of $25,000.
Beddis, who works as a VP of marketing for a non-profit, said the money came primarily from generosity of the Waynewood community (ZIP Code 22308) as well as a few local businesses that support the team each year. Next Friday, Oct. 20, a private party of all volunteers is planned at a Waynewood home where some generous contributors will chip in between $100 to $500 for the MEE team.
"This community is one that rallies around each other," said Beddis of the support. "I felt there was a line outside the Erlandson's door, and people wanted to give them money, gas cards, and restaurant cards."
She added: "I think (the support) was a little overwhelming, but they were very appreciative and they needed some time to figure out how to handle this on their own. When they learned about the LLS and the fact that there was an event like Light the Night that brings together patients and survivors, it just seemed like the right thing to do, to get a team together to raise money for the cause."
She said the first year, there were 20-30 on the team of Light the Night walkers. And everyone who walks carries a lantern — the color red is for supporters, white is for survivors, and gold is in remembrance. And each year, it's gotten bigger and more and more people are walking. "Word has spread of what an amazing event it is," she said.
Added mom Sandi Erlandson, 39, a stay-at-home mom: "We know how much this community has done for us, but when we actually see this tent and all the lanterns and get the visual picture of what they've done for us, it's really something."
Sandi Erlandson said Michael's ordeal started in May 2014 when he was just tired all the time and not able to keep up with his friends. So they took him to Fort Belvoir Community Hospital and discovered he had a mass in his chest; he was then diagnosed with leukemia.
"He did eight months of chemotherapy treatment and in March he started his maintenance treatment," said Sandi. "He was able to go back to school and did a month of first grade. He then had a homebound instructor and skipped the rest of the school year."
His mom said the first eight months were pretty intense with intravenous chemotherapy and spinal taps, which kept him out of school with low blood counts and many hospital stays due to fevers. "He felt crummy and lost his hair and a lot of weight. He was then on steroids and he gained weight back, which put him in a wheelchair."
He began maintenance therapy in April 2015, which is daily oral chemo, and once a month he got intravenous chemo through his port; and every three months he got a spinal tap. "We will finish all of that in three weeks and we will be done," she said, adding that she's "equally excited and anxious" that the treatments will end.
"Michael is over-the-moon excited because the chemo is at night and it keeps him from having sleep overs, so it keeps him from being a normal kid," said his mom. Michael attends Waynewood Elementary in Alexandria and his hobbies include baseball, video games, chess and Legos. He has two other siblings: Carlie, 12, and Gabriel, 5.
At one point, dad Mike, 39, who works in the U.S. Army, thought they were out of the woods. "But then he developed an immune disorder because of the first treatments, which led him back to the hospital for one month," he said. "There were 11 other people diagnosed with this in the National Capital region, and Michael was the only one to live."
During his treatments, Michael also worked with the Resilience Project by designing socks with his friends' initials on them as a fund-raiser. Those were friends from the Fort Hunt Little League Team of 9-and-10-year-olds who supported him by visiting him. The socks come in both a crew length casual sock as well as athletic baseball socks fit for the diamond. A portion of the proceeds from the sale of socks will be donated to Walk with MEE and part of it helps people pay their medical bills.
"I put them (the initials) on there because they helped me," said Michael of his friends. "I had a lot of visits from my friends." Some of those initials belong to friends named Max, Abby, Cam, Nik, Kyle, Shaan, Jack, and Brendan. Michael even presented a pair of socks to Bryce Harper of the Washington Nationals.
His mom added: "At the walk last year, Michael wanted to walk the whole walk himself, so toward the end of the walk, he was getting tired so one of his friends (named Cam) picked him up and carried him across the finish line."
Added his dad: "It's just amazing to watch how supportive everyone in the entire community has been toward Michael and our family as we struggled through this. In the end, the adage, 'It Takes a Village,' applies to our village of Waynewood."
Added Beddis: "Those kids have learned a lot about compassion, friendship, and loyalty. It came instinctively. They just know how to treat a friend."
The corporate donors which have supported the Walk With MEE team include: Anderson Orthopedic Clinic, Mt. Vernon Physical Therapy, The Patterson Group, MBH Settlement Group, Cedar Knoll Inn, and Southside 815.
The Light the Walk is Saturday, Oct. 21, on the National Mall in D.C. To contribute to Michael's MEE Team, visit
http://pages.lightthenight.org/nca/washdc17/walkwithmee.
To contribute to the Resilience Project and the socks, visit
www.resilience.gives/products/michael-erlandson.