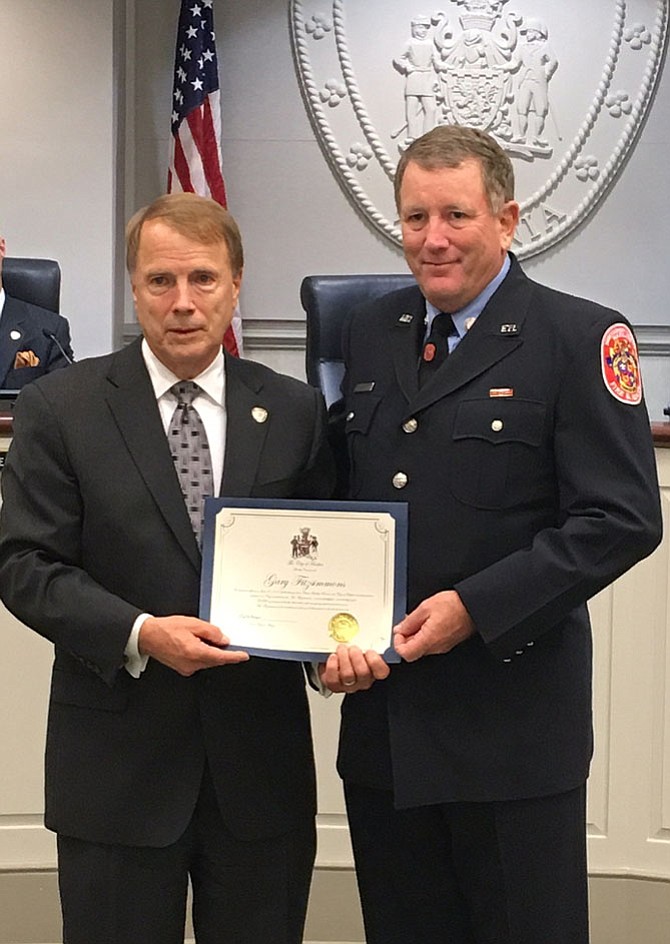 Firefighters aren't just first responders when they're on duty. Often, they respond to aid people needing help when they're off-duty, as well. And that's exactly what Montgomery County Firefighter/EMT Gary Fitzsimmons did.
His quick actions saved the life of a construction worker in the City of Fairfax. And before the Sept. 26 Fairfax City Council Meeting, Fitzsimmons was acknowledged and honored by the City in a special ceremony.
The incident occurred on June 20 at a road-work site at Routes 123 and 50, after a crane being operated by the construction worker accidentally hit a power line and sent a jolt of electricity through him. Just then, Fitzsimmons was in his vehicle, traveling on Fairfax Boulevard.
"The construction worker received a significant electric shock," said Fairfax Mayor David Meyer. "And in that moment, a trained firefighter/EMT [emergency medical technician] from Montgomery County happened to be driving by. Gary Fitzsimmons assessed the situation and administered CPR. The City Fire Department was there within three minutes – but within the first two minutes, he saved the worker's life."
In a letter Meyer sent to Fitzsimmons's boss, Fire Chief David Pazos, the mayor praised and commended the firefighter's actions. "Gary's professional training and service ethic is an example for all of us and reflects well upon your organization and the entire Fire and Rescue units of Montgomery County," he wrote.
"When I heard about this event, I decided I wanted to recognize Gary for his actions," continued Meyer. But Fitzsimmons was scheduled to be on duty on Sept. 26, so Meyer asked Pazos to request that the firefighter be allowed to attend a City recognition ceremony in his honor.
Pazos acquiesced, and Fitzsimmons returned to Fairfax. Presenting a commendation to him "for his heroic actions," Meyer described Fitzsimmons as "the embodiment of the good Samaritan we should all strive to be."
Accepting the honor, Fitzsimmons said, "Really, I just happened to be there." And regarding the way he quickly saved the victim's life, he said simply, "It's what I do every day." And, he told the Council members, "You have one heck of a Fire Department here in Fairfax City."