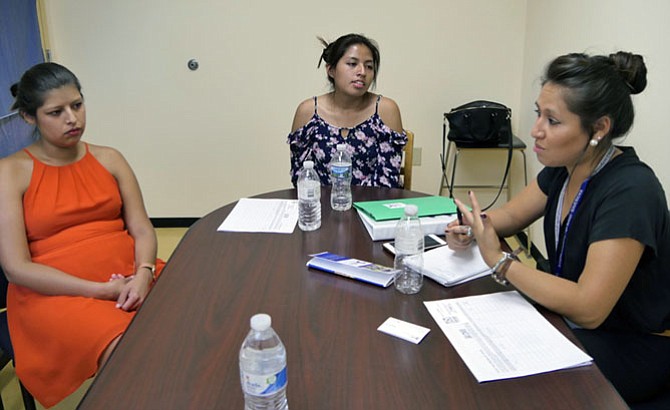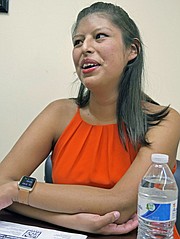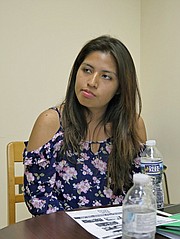 Definitions
Immigrant: A person who is not a citizen or a national of the U.S. and who is lawfully granted the privilege of residing in the U.S.
Illegal immigrant: A person who crosses a country's border, in a way that violates the immigration laws of the destination country, with the intention to remain in the country.
Refugee: A person who is outside his/her country and who is unable or unwilling to return because of persecution or a well-founded fear of persecution due to race, religion, nationality, political opinion or membership in a particular social group.
Deferred Action for Childhood Arrivals (DACA): Status granted to immigrants who meet certain age and education requirements, have lived continuously in the U.S. since June 15, 2017 and haven't committed serious crimes.
"We live in the land of the DACAs. No one else really understands what this means." Katherine Garcia-Ortiz came into the United States illegally with her father when she was 7-and-a-half years old. "My mother left me in Bolivia when I was 4 years old to make a better life for the family in America." She says her mother worked at a doughnut shop and a lot of other places with 3-4 jobs at the same time to make this possible.
Garcia-Ortiz remembers when she arrived in America she thought, "who is that lady; is that my mother? I had pictures of her but this wasn't really my mother." Garcia-Ortiz expected a house like they had in Bolivia, but her mother lived in a small apartment. The family situation is complicated with her mother and father entering the country illegally, her sister born here and thus an American citizen and her own DACA status.
Now due to the Executive Order issued by President Obama in 2012, Garcia-Ortiz has Deferred Action Childhood Arrivals (DACA) status that temporarily protects her from deportation and allows her to get a work permit. In addition, the state of Virginia has issued an opinion advising Virginia colleges and universities that DACA students who meet Virginia's domicile requirements are eligible for in-state tuition. Also she is allowed to apply for a driver's license. All of this ends when her current DACA status expires. Then it's "no license, no in-state tuition, and hiding."
This will affect over 800,000 DACA recipients nationwide with 12,000 In Virginia. Since DACA is not a path to citizenship for immigrants who entered the country illegally, it will take legislation to allow them to apply for permanent status.
On Sept. 5 U.S. Attorney General Jeff Sessions announced President Trump's decision to rescind the DACA program. Garcia-Ortiz says when she heard this she cried for three days but she decided she had to get over it and do something.
Garcia-Ortiz sits in a room at the Arlington Community High School on Walter Reed with Lizzett Uria, from Fairfax, executive director of the Dream Project. This program was established in 2010 to assist students with immigration barriers to education. Seventy-one percent are eligible for DACA status. The Dream Project provides mentoring, financial assistance for college and moral support to immigrant students to help them be successful. Garcia-Ortiz lives in Arlington and has just graduated from high school and received a $1,500 scholarship from the Dream Project. She is enrolled in NOVA, majoring in biomedical engineering, and hopes to transfer to George Mason.
However, things are not easy for her family. "Our parents give up everything for us and then things in America are not easy for them. People back home in Bolivia think we are walking on petals. They say 'why don't you do more for your dad who has a hernia?' Hospitals here are so expensive we can't afford it." Garcia-Ortiz says she is paying for school out of her pocket because her parents can't help her. "I work so much. The scholarship from the Dream Project makes a big difference."
"But with things the way they are now my parents are saying, 'let's just go back home.' They are trying to convince me to go with them because of everything that has happened. It's scary. Police officers are detaining people here and over here and over here. Life is better in Bolivia my parents say." But if they return to Bolivia because of their illegal status, they won't be able to return to America.
The culture in America is different, often most of the remaining family is still in the native country and financial struggles are common.
So why do they do it? Why do they decide to risk life in America? Sometimes it is because there is violence in their home country or conditions are bad but often the answer is reflected in a comment by Uris: "It's about being able to be free."
This year the Dream Project provided financial assistance to 76 students, and their goal is to increase the number each year. The program includes mentoring of high school students followed by application for a scholarship and visits to different colleges.
Uria says, "It's important to the students that they know they have support." As their brochure says, "Behind every student there is a personal story of struggle and commitment." Uria says, "the students are our voice. They tell their stories and it helps people understand.
Uria's own story began when she arrived from Bolivia at the age of 12 on a tourist visa with her one-year-old sister and her parents. She said her parents told her they would just visit their grandparents in America and then stop at Disney World. That seemed great to her. But they didn't return to Bolivia. "I really didn't know I was undocumented until I was a senior in high school and asked to get my driver's license. My parents stalled because they didn't know what to tell me. "
She said, "My friends were all driving. They didn't know. They saw me as a cheerleader.
"It was a family secret. You couldn't tell anyone. No one else knows the struggle you go through." Uria continues, "in Bolivia my mother was an architect and my father was in politics." But here her mother owns a cleaning company, and her father is a cashier. "My mother is not happy about who she has become."
"But the one I feel most guilty about is my little sister. When she was young she would ask 'where was mom?' Mom was always working. 'Where was dad?' Dad was always working, too. She would ask could she have this and the answer was no because we couldn't afford it. A birthday party is important to a 3-year-old. Now that she is 17 she says she can understand.
"I started working at 14 with no documentation but people believed in me." She says, "that's what I tell my students. Don't give up."
Uria knows people who have gone back to Bolivia to stay but regret it. In fact, she made a trip back recently. She was able to make this trip out of the country legally because she is now married to a U.S. citizen and has a temporary green card. But after taking a trip back to visit, Uria says she couldn't return to live in Bolivia. "Here you work all week but you get what you need. In Bolivia it is a struggle. But," she stresses, "it's not all financial; it's about being able to be free, the American dream."
Chelssi Jimenez-Flores, another DACA recipient and Dream Project scholarship recipient also sits at the table. She arrived from Bolivia when she was 6 years old to join her dad who had been here a long time. She is currently a freshman at Marymount University in nursing and plans to add on biology. Her grandfather was in America legally and had brought over the grandmother and other uncles. She says conditions in Bolivia are bad. "There are a lot of drugs. Teenagers drink at 12."
Now she has finished her first year at Marymount and is a mentor to younger students in the Dream Project. "I feel like in America we can all walk (anywhere we want)." Although she lives in Arlington her parents have bought a house in Maryland in order to get a driver's license. Maryland allows a driver's license for undocumented immigrants who live in, and pay taxes, in Maryland. In Virginia a Senate Committee killed a bill in January 2017 that would have allowed illegal immigrants to get a driver's "privilege card."
Jimenez-Flores says if nothing permanent gets passed, "we'll see how it goes." She pauses and says, "I'm somewhat worried," then wipes her eyes, "there's nothing we can do."
But Uria encourages her. "There is something we can do. I believe this has given us an opportunity to focus on enacting permanent legislation. We've been through this before DACA and we know what to do." Although DACA protects immigrants from deportation, it is not a path to legal citizenship which can only be guaranteed through the enactment of legislation.
In the meantime they live with the uncertain future and the upcoming expiration of their status. Uria says, "That small piece of paper, it's like magic."
This is the second article in a series focusing on DACA.