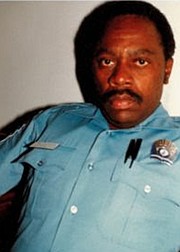 On Thursday, Nov. 23, 2017, retired Officer Irving Comer, the first African-American to be sworn in as a police officer for the Arlington County Police Department, died at the age of 74.
Officer Comer began his career in Arlington County in September 1967 as a communications specialist. At that time, the chief of police had not been successful in recruiting minority officers and asked Mr. Comer to join the force. He initially rejected the chief's request, fearing he would be limited to patrolling minority neighborhoods. He took the position in December 1967, only after the chief assured him he would serve the entire community.
Two years into his service, Officer Comer became a school resource officer at Thomas Jefferson Junior High, just as racial integration began. He served as the police department's youth resource detective, creating a Juvenile Delinquency Prevention Program.
In May 1974, Officer Comer became a recruiter for the Northern Virginia Police Minority Recruitment Office. Additionally, he created the first ride-along program, focusing on youth mentorship and was an instructor at the Northern Virginia Criminal Justice Training Academy. Officer Comer retired from the police department in May 1992, serving the Arlington County community for 24 years.
Prior to Officer Comer's service to Arlington County, he served in the U.S. Marine Corps from June 1963 to July 1967, obtaining the rank of sergeant.
Officer Comer attended Virginia State University, then Virginia State College, in 1963, majoring in mathematics. In 1973, he received his Bachelor of Science degree in administration of justice from the American University. He received his Master of Science degree in 1975 from Southern Illinois University. Officer Comer also completed two years of law school at the International School of Law. In 1994, he applied his on-the-job experience and formal education and became a Political Science and Administration of Justice professor at Germanna and Northern Virginia Community College.
Officer Comer had a love for sports. In his spare time, he coached and officiated high school and recreational basketball.
His daughter, Angela Comer, joined the ranks of the Arlington County Police Department three decades after her father. Angela Comer, who has risen to the rank of first sergeant, said her father was key to her career decision. Although she faced some challenges, she's grateful for the groundwork laid by her father.
"Officer Irving Comer joined the police department at a time the country and the county was struggling with race relations and needed an ambassador," said Chief of Police, M. Jay Farr. "He fulfilled this mission and embraced the task at hand. Our thanks go out to Officer Comer and the legacy he left. Our heartfelt condolences remain with the Comer family as they mourn his loss."
Services for Officer Comer will be held at Dale City Christian Church Cathedral of Praise, 14022 Lindendale Road, Woodbridge, Va. on Friday, Dec. 1 at 10 a.m.