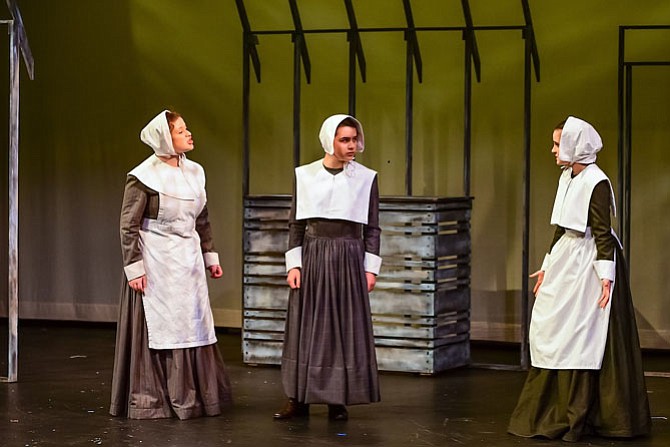 The devil has come to Salem and no one is safe. Will they lie to protect their lives, or tell the truth to protect their dignity? Either way, this little town in Massachusetts is doomed. Flint Hill School portrays the deterioration of this quaint little town in their production of "The Crucible."
Author Arthur Miller wrote "The Crucible" in the early 1950's, with its first performance debuting in 1953. Although his play is set in the 1600s, Miller saw a 20th century connection to the story of Salem. During this period, Sen. Joseph McCarthy led what was known as "The Red Scare." In the search to weed out Communists in America, those accused could escape jail time by accusing someone else of Communism. Soon enough, the country was engaged in a wild goose chase for Communists. The first opening of "The Crucible" was a short run, receiving many negative reviews, but it was later awarded the Tony Award for Best Play. Since then, "The Crucible" has become a staple in American Literature, being read in theaters, households, and classrooms alike.
In an age where superstition and accusations are everything, John Proctor refuses to give in to paranoia. Portraying Proctor was actor Sayeed Akhtar, who gave a dedicated and meaningful performance. Behind every line, there was a real passion and desire to free himself from the madness of Salem. Acting as his wife, Elizabeth Proctor, was Alexandra Wai. Both Akhtar and Wai brought undeniable chemistry to the stage, making it seem as if they had been married for years. Even without personal microphones, their passionate voices echoed through the auditorium, so the audience never missed a beat.
The Salem Witch Trials would be nothing without the accusers. The malicious leader of the trials, Abigail Williams, was portrayed by Julianne Cuevo. Cuevo remained committed to her role throughout the entire play, even screaming as she pretends to see the devil. Alongside her was actress Hannah Khan playing Mary Warren. Khan remained perfectly in character even when she was not acting, adding details that helped the audience lose themselves in the story. The girls drove the story through their character arcs, making Flint Hill's production of "The Crucible" all the more immersive.
In addition to the cast, technical elements of "The Crucible" strengthened the overall production. Hair and makeup head Nixon Kramer was challenged to accurately portray the style of this time period. Through relatively simple makeup and hairstyles, Kramer succeeded in transforming 21st-century actors into simple, Puritan women. In addition, the crew had the task of turning teenagers into older men and women. Through their use of old age makeup and effects, they were able to depict older people in an accurate and believable fashion.
"The Crucible" is a shocking play showing the Salem Witch Hunt of the 1600s. Flint Hill School's production of "The Crucible" was a chilling portrayal of such an elusive event. After seeing this performance, you won't know who to trust!