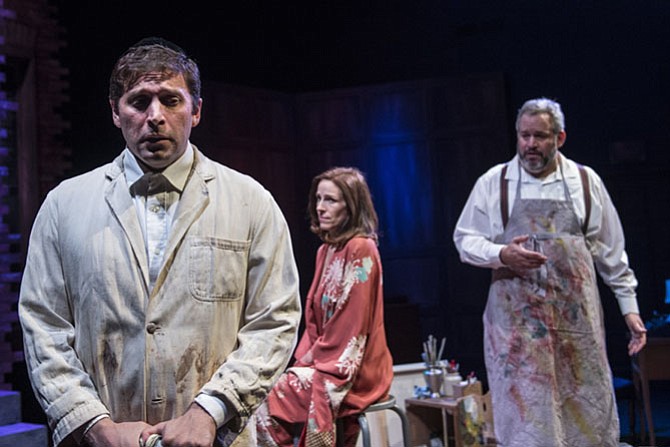 Where and When
1st Stage presents "My Name is Asher Lev" at 1524 Spring Hill Road, Tysons. Performances through Dec. 17, 2017. Thursdays at 7:30 p.m., Fridays at 8 p.m., Saturdays at 2 p.m. and 8 p.m., and Sundays at 2 p.m. Tickets: $33 (general admission). $30 (seniors), $15 (students and military). Call 703.854.1856 or visit: http://www.1ststa...">www.1ststagetyson....
Under the discerning direction of Helen Hayes Award recipient Nick Olcott, "My Name is Asher Lev" at 1st Stage is a burnished gem packed with acting prowess and terrific technical artisanship.
Winner of awards for theatrical achievement, "My Name is Asher Lev" is written by D.C. area playwright Aaron Posner. He adapted the play from a novel by Chaim Potok. Posner's script is a penetrating look into thorny relationships of a gifted young Jewish artist named Asher Lev seeking a respectful exodus from his cloistered upbringing in a post-Holocaust Brooklyn Hassidic community.
The production is told in a series of flashbacks. The Lev character is portrayed by Lucas Beck with an understated command of the moody, willful Lev. Beck is a founding artist of 1st Stage. As Lev, Beck is both a narrator speaking directly to the audience and the protagonist himself.
Beck never leaves the stage or falters as he weaves his way through the heartbreak of loving his parents, yet becomes convinced he must live by the commandment, "As an artist you are responsible to no one and to nothing, except to yourself and to the truth as you see it."
Other characters are played by Andy Brownstein as "The Men" and Hyla Matthews as "The Women."
Brownstein is successful at providing distinct life for three characters. Brownstein is Asher Lev's domineering, distant father as well as the stormy provocateur Jacob Khan, an older artist who becomes Lev's mentor. Brownstein also portrays the Rebbe who is generally sympathetic to Lev.
Matthews' main stage character is as Asher Lev's affectionate mother who is also seeking her place in the world. Matthews is often a haunted presence, sunk in a fragile depression, while attempting to make sense of her headstrong son.
The "Asher Lev" design team adds immeasurable underpinnings to the show's success. Jessica Cancino has designed a homey set with three well-defined performance areas. The stage has large windows that become central to the play's path forward, especially as impressively lit by lighting designer Kristin A. Thompson. Marsha M. LeBoeuf's costumes are spot-on modest befitting the characters. Reid May's sound design is an awesome passage through a Klezmer repertoire with a fitting crossing into Dave Brubeck's composition "Take Five."
"My Name is Asher Lev" is a savvy tale of a struggle to find one's place when family, community and one's own need for individuality are at constant loggerheads.