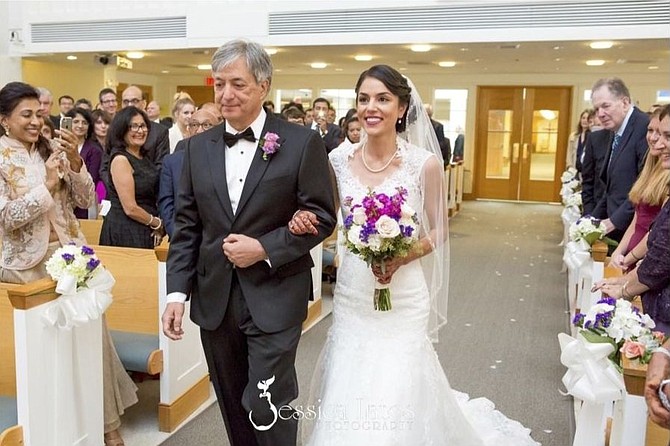 Raksha and Dinesh Mehta of Great Falls have announced the marriage of their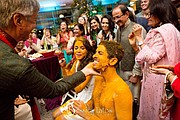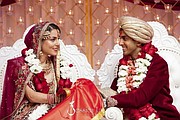 son, Dr. Raaj Mehta to Dr. Geneva DeGregorio, daughter of Maggie DeGregorio of Whately, Mass. and Peter DeGregorio of Montgomery, Mass. The three-day wedding celebrations started on Sept. 29 with the wedding rehearsal at the Vienna Presbyterian Church in Vienna followed by a welcome dinner party that included traditional rituals of Indian mehendi (henna design application) and pithi (application of a skin cleansing paste of turmeric, sandalwood oil and rosewater to bride and groom) at the Meadowlark Atrium in Vienna. A highlight of the event was the performance by a local Irish band led by Tam McGeady.
The couple was married on Sept. 30 first in a Christian ceremony at the Vienna Presbyterian Church, led by Rev. Judith Fulp-Eickstaedt. A lunch reception was held immediately after the Christian wedding. The highlights included a video recap of the bride's and groom's backgrounds by their siblings. Subsequently, the couple was married in a Hindu ceremony at the Ritz-Carlton Tysons Corner, officiated by Pandit Ram SnehTripathi. The wedding ceremony included a Hindu baraat, a traditional arrival of the groom's party with the groom riding on horseback.
A cocktail/dinner reception was held immediately following the Hindu wedding. The festivities included several Bollywood and Hollywood inspired dances and performances by family members and friends. The party music was provided by a live band, Rhythm 6, and DJs from Dynasty Entertainment.
The following day on Oct. 1, the bride was welcomed at the home of Raksha and Dinesh Mehta by performing Laxmi Pravesh, a Hindu ritual symbolizing welcoming of new feminine energy. Following the Laxmi Pravesh ritual, guests were treated to Christian and Hindu devotional/inspirational music by local vocalists Nancy Scimone and Swati Kanitkar.
The couple first met in Boston through a common friend in a blind date while Raaj was pursuing his medical degree and Geneva was interning at a local hospital.

The bride, who is taking her husband's last name, is an intern in internal medicine at the Brigham & Women's Hospital in Boston. She graduated cum laude from Tufts University and received a medical degree from the University of Massachusetts.
The groom is a resident in internal medicine at the Massachusetts General Hospital in Boston. He graduated cum laude from Princeton and received a medical degree magna cum laude from Harvard. He was also a Fulbright scholar to Ecuador from 2010-11.