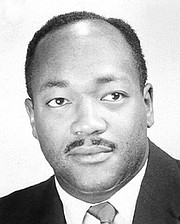 Olvin R. McBarnette, first African American elected School Superintendent of Harlem District 5, died on Oct. 18, 2017 in Alexandria at 90 years old. Mr. Mac, as he was known to his students, was a teacher, counselor, and administrator in the New York City Department of Education.
Mr. McBarnette was born on June 21, 1927 in New York City to Owen McBarnette of Grenada and Camilla Padmore of Trinidad, immigrants who met and married in New York. He was the youngest of three boys and he and his family lived in a tight-knit, historic black neighborhood on West 99th Street in New York City.
During World War II, Mr. McBarnette joined the army before he turned 18 by misleading recruiters about his age. He served in the Army Medical Corps. After the war, Mr. McBarnette returned to and graduated from Palmer Memorial Institute, an African American boarding school in North Carolina. He began college at Howard University and completed his studies at Long Island University. He earned a master's degree in education from City College of New York.
Mr. McBarnette dedicated his career to community service and worked with children, the sick, and the elderly. Mr. McBarnette began his career with the NYC Youth Board, an organization focused on gang violence. He joined the New York City's Board of Education as a specialist working with disruptive children and ultimately became superintendent of his district.
McBarnette was founding member of the Queens Youth Alliance, executive director of the Sports Foundation, and a trustee of the NYC Basketball Hall of Fame. He helped found the City Wide Rec Basketball League (City Wide Athletic Association, Inc.). He was a board member of the Sickle Cell Foundation and president of the Sickle Cell Center for Research. He was chairman of the Red Cross Harlem chapter and a vestry member of Grace Episcopal Church in Queens, N.Y.
In 2005, Mr. McBarnette and his wife moved to Alexandria to live closer to their children. In Alexandria, Mr. McBarnette continued to do community work. He was an advisor to the Concerned Citizens Network of Alexandria, whose mission is to reduce dropout rates. He participated annually in the local middle school's Eyewitness to History Day, where veterans share their stories. He also developed programs and exhibits for that commemorated the achievements of World War II African American veterans.
Olvin McBarnette, Mr. Mac, or simply Mac to his friends and family, will be remembered for his humor, warmth and never-ending efforts to improve his community. A loving husband of 60 years to Dr. Yvette Fay Francis-McBarnette, he leaves behind his children: Bruce, Camilla, Yvette, Elayne Sara, Ellen and Andrea; grandchildren Nettie, Bailey and Taylor; and numerous nieces and nephews. His memorial service will be held Dec. 1 in Alexandria.
Everly-Wheatley Funeral and Cremation, 1500 West Braddock Road, Alexandria, is in charge of arrangements.