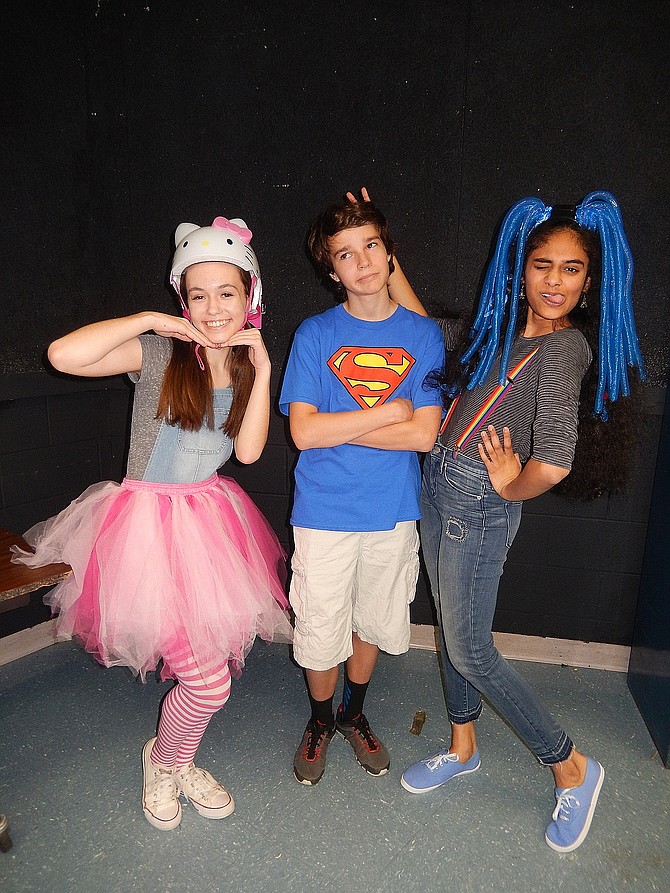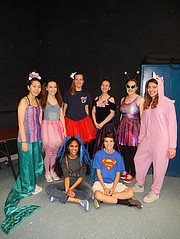 Aidan is a 6-year-old boy with an imaginary friend, Ralph. Trouble is, no one else believes he's real — not even Aidan's mom or sister Nadia — until they all end up in Ralph's imaginary world.
That's the premise of Chantilly High's upcoming children's show, "Imagine If." The curtain rises Friday, June 2, at 7 p.m.; Saturday, June 3, at 2 and 7 p.m.; and Sunday, June 4, at 2 p.m. Tickets are $5 at the door or via www.chantillyhsdrama.com.
This original comedy was written by Chantilly Theater Director Shannon Khatcheressian. "I wrote it four years ago about my son Aidan, so it's funny watching the show now and seeing how much my own kids have grown and changed since then," she said. "Ironically, my daughter Nadia has grown into the character I wrote for her when she was 3 months old."
The play features a cast and crew of 75 Drama I and II students; and, said Khatcheressian, "I'm excited about this group of kids. We have a lot of new faces this year, in both the cast and crew, and they've worked very hard together. They've honed their acting craft and abilities and have established a great sense of comedic timing. And all that makes for a fast-paced, zany show."
She said the story revolves around "accepting others even though they're different — and celebrating those differences. The best part about this show is that every family member will be able to relate to a character onstage, enjoy themselves and, hopefully, get a nice reminder about what's truly important in life — our families, friends and relationships."
Portraying Aidan is sophomore Jared Belsky. "At the beginning, he's pretty timid and shy, but relaxed and open with his best friend, Ralph," said Belsky. "He's more confident with Ralph than when he's at school. But since Ralph is imaginary, he gets picked on for talking to someone that no one else thinks is real."
Making matters worse, whenever Ralph does something crazy, Aidan is blamed for it. So eventually, Ralph invites him to his world to meet his friends there and have an adventure. But humans aren't allowed in Ralph's world, so Aidan has to be disguised so the other imaginary friends won't catch him.
"It's a lot of fun playing Aidan because he's young, so I get to play off his childish innocence," said Belsky. "And I interact with all these extreme, wacky characters because Aidan is fascinated by them."
As for the play, he said, "We have a really good cast — everyone's very talented — and it's enjoyable for both kids and adults. Everyone's going to have a good time." It's fun being in a children's show, said Belsky, because "The actors aren't as stressed, so we're having a good time onstage. And since it's over-the-top, no one's embarrassed to make a fool of themselves."
Sophomore Shreya Surapaneni plays Aidan's best buddy, Dylan. "She's a really wacky, goofy troublemaker and loves goofing around with Aidan," said Surapaneni. "She's spontaneous and super-silly, but is afraid he's going to grow up and forget about her."
She said this role allows her to bring out her inner child. "Things I can't do as me, I can do as her — like dance whenever I want — and it's not weird," said Surapaneni. "In a children's play, you get to do all these silly things that make you and all the kids laugh. And it makes me happy to see them enjoying themselves."
Surapaneni said the audience "will love the good friendship between Aidan and Dylan, and how one's like, 'Let's do this,' and the other's like, 'No, we can't.' And the costumes are wacky and hilarious to look at. Without the actors even saying a line, people will just see them and start giggling."
Freshman Piper Read is in charge of costumes and is having a great time creating them. "We either put them together out of things we already had or ordered them for the show," she said. "There are a lot of fun, bright colors on these crazy, imaginary characters. They're things that children would imagine, because that's the goal of the show."
For example, she said, Princess Ice Cream will wear a waffle-cone skirt and an ice-cream shirt with sprinkles. Other characters include a mermaid, a dragon and an alien. And one girl — who's both girly and a tomboy — will wear a Washington Nationals jersey and baseball-themed hair bow with a tutu and red leggings.
"People will really like being in a child's world," said Read. "It's all bright and colorful, and I think they'll like the costumes, too, as well as the plot. It's fun to be in an imaginary world for an hour and a half."
The show's production manager is junior Caroline Woodson, and she's been guiding the production team of underclassmen to make sure all the costumes, props and makeup are ready. "There are a lot of fun props for this show," she said. "We ordered a few hundred flowers because each audience member will get one at the start of Act Two. Then, when prompted, they'll hold them up and become a flower field — and the actors will search among them for particular colors."
In addition, said Woodson, "We're building an enormous boulder out of wood, papier mâché and chicken wire. And we're also finding cool lamps and comforters for Aidan's bedroom. The set even has a slide and will be super-bright and colorful. The scenes take place in Aidan's school, bedroom and under his bed — which is where the imaginary world, the Land of Fun Friends, is."
The makeup will also be creative and inventive, said Woodson. "Some of the imaginary friends will be covered in polka dots," she said. "The alien will have crazy-colored face paint and lipstick, and one fun friend will have his face made up like a dog. "
She's enjoyed getting to know all the underclassmen and teaching them because, she said, "They'll all be in charge of these things one day." Regarding the show, said Woodson, "It's really cool because the kids will love the imaginary things coming to life on stage. And the parents will get all the jokes, too, just like the children, so everyone will enjoy it."