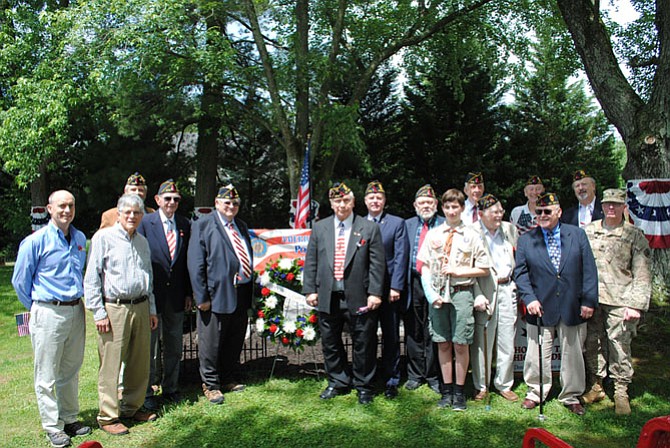 McLean American Legion Post 270 hosted the annual Memorial Day Ceremony at McLean High School. Veterans, Police and Fire Department officials, and community members gathered in the school's Memorial Garden at 11 a.m. on Monday.
Del. Kathleen Murphy (D-34), Del. Richard "Rip" Sullivan (D-48), Del. Marcus Simon (D-53) and Supervisor John Foust (D-Dranesville), spoke to the crowd in honor of veterans for the special day. Ellen Reilly, McLean High School Principal, and Colonel David Ashcraft, serving military member, spoke as well.
"We have an obligation to serve our veterans and make sure they are cared for," said Murphy.
The ceremony was opened with a prayer while the crowd lowered their heads for a moment of silence. The ceremony was led by William Glenn Yarborough, Jr., 7th District Vice Commander Post 270.
Yarborough said that the meaning of Memorial Day is sometimes confused. It is to honor people who served in the military in wartime that have passed on and to remember the sacrifices they made to protect us.
Kay Hartgrove, president of McLean Fire Department, and Dale Oliver, Fairfax County Police Department Officer, presented a wreath in front of the memorial garden that said "Heroes Live Forever" after the speeches.
"It brings people together and the American Legion contributes greatly to the community. This highlights our year, every year," said American Legion member Arnold Krauss.
According to the American Legion website, www.legion.org, The American Legion is the nation's largest wartime veterans service organization dedicated to helping the community. McLean Post 270 was established in 1946 by a group of local World War II veterans and continues to support the community through participation and sponsorship of community programs to this day.
The event gave community members a chance to honor and remember those who have given their lives for the country.
The ceremony closed with Amazing Grace played on the keyboard by Post 270 member, Bob Rosenbaum. The Mclean Post 270 then hosted an open house lunch at their building located at 1355 Balls Hill Road in McLean after, to continue the day of remembrance.