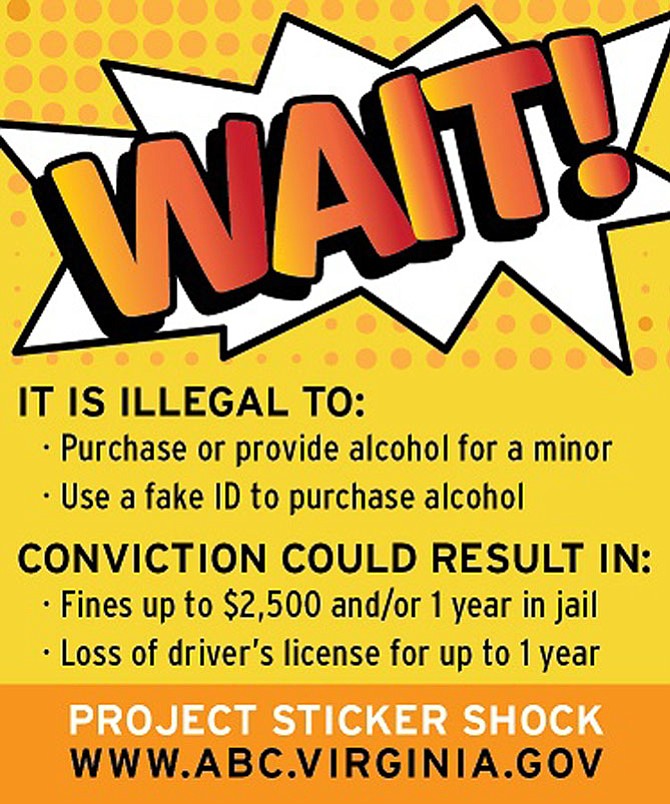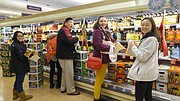 It's prom/graduation season with summer break a few weeks away, and high school members of the Youth Council of the Unified Prevention Coalition of Fairfax County want youth and adults to know the Virginia laws to prevent underage drinking. They'll be taking part in another Project Sticker Shock event June 12 in the Annandale and Herndon areas.
Adolescents and full-time college students most often use substances for the first time during June or July, according to the U.S. Substance Abuse and Mental Health Services Administration's National Survey on Drug Use and Health. So now is a great time to remind everyone of laws to protect underage youth.
The Project Sticker Shock community awareness program is designed to prevent people 21 and older from purchasing alcohol and providing it to underage individuals. Participants visit partnering stores and place stickers with a warning message about the penalties for providing alcohol to anyone under 21 and using a fake ID to purchase alcohol.
In December, I participated in a Project Sticker Shock in the Centreville area. This was my first time doing this, so I wasn't sure what to expect. I was quite nervous going into the stores as this was a new concept with me.
Thankfully, I went with Ms. Amanda Pusey (a health prevention specialist from the Fairfax-Falls Church Community Services Board), and we met up with some other youth members from the Grace Community Center's Youth Council who also were enthusiastic on limiting alcohol and raising awareness for mental health as well.
Fairfax County Police Department officers and school resource officers also help out by taking part in the event, along with other adult volunteers.
It was really fun to see other teens my age involved in something so vital to our community. We all started with a large roll of stickers provided by the Virginia ABC education unit. I was unsure if we would ever use up all of the stickers as it was quite a ton, but we managed sure enough to use up all the rolls sticking the stickers on various beer containers warning buyers to not buy alcohol for those underage and the consequences of giving alcohol to teens.
I had a really great time meeting with new like-minded teens who had the same mission statement. It was fun to have a competition to see who could put the most stickers on the most amounts of containers! Who knew just sticking stickers all over (my childhood dream) could be so much fun? While at the same time knowing that I was a small part in a huge impact in my community hopefully one day ending alcohol abuse once and for all.
Valerie Nguyen is an 11th-grade student at Centreville High School and member of the Youth Council Executive Committee. For more information about the Unified Prevention Coalition, see www.unifiedpreventioncoalition.org. For information about joining the Youth Council, email YouthCouncil@upcfairfax.org.