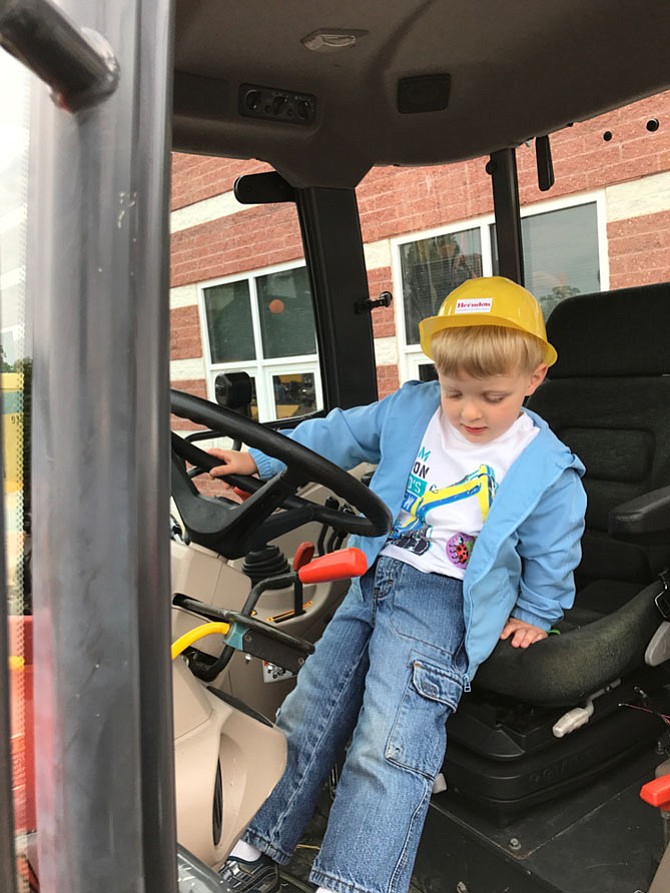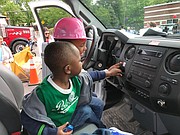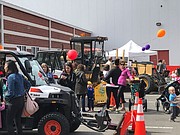 Despite cloudy skies and downpours, nearly 1,000 people visited the Town of Herndon's Department of Public Works Maintenance Complex on Sterling Road, May 4-5. They were there to attend Big Truck Days, a popular family-friendly event hosted by the Department since 1999.
John Johnson, DPW's Building Maintenance Coordinator/Assistant Supervisor, was on hand early morning to greet the first wave of visitors arriving at the free event and to accept non-perishable food donations for the needy. As Johnson distributed plastic hard hats, stickers and wristbands to the visiting children, he explained that everyone was invited to not only see and touch the town's fleet of big trucks and heavy equipment on display but to go ahead and climb on board. Sit in the cabs, try out the steering wheels, push the buttons and have a great day. Johnson went on to tell the parents, teachers and children that other members of the DPW's staff were in the parking lot. They would be happy to answer any questions and explain the function of the vehicles.
Talia Thompson and her son Carlisle, 5, were among the first to arrive. "What a wonderful way to familiarize our children with our community helpers," she said. Sangae Ramsey brought her two children, Winston, 2, and Cheyenne, 4. She expressed a similar sentiment. "This is a wonderful experience to view all the trucks that we see on the road and in our neighborhood."
Besides the big trucks, there was an activity area where children could control a stop light by pushing a button to change its colors and a set of pedestrian signals set out for them to learn first-hand how to cross a street properly. Karyn Bodell's 5-year-old son, Moses gleefully ran back and forth racing his friend Carlisle up and down the crosswalk and pushing the buttons to change the signal. Bodell appeared very pleased with the exercise and said, "This is a great opportunity for my kids to have fun and learn about safety."
One of the most popular vehicles at Big Truck Days was not a big truck but one of the town's police cruisers. While children waited patiently in line to climb in and take a good look around the cruiser, Town of Herndon police officer D.A. Randles talked with them and distributed stickers.
For more information about the Town of Herndon's Public Works Department visit, herndon-va.gov/departments/public-works.