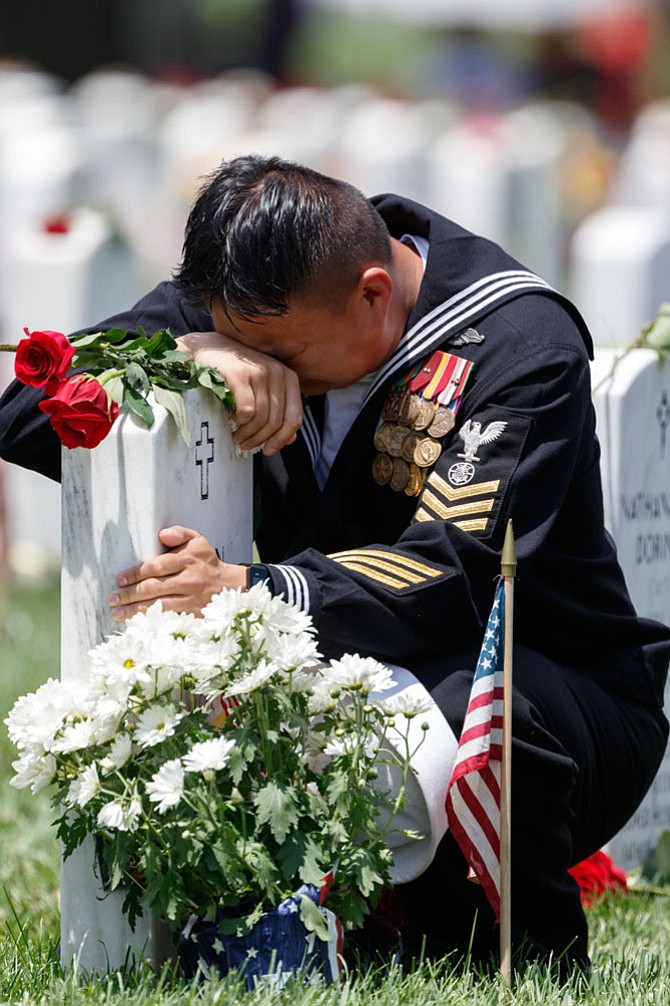 America's fallen warriors were honored May 29 as President Donald Trump paid tribute to U.S. service members at the National Memorial Day Observance ceremony at Arlington National Ceremony.
"Here at this hallowed shrine, we honor the noblest among us, the men and women who paid the ultimate price for victory and for freedom," said Trump in his first Memorial Day remarks as president. "We pay tribute to those brave souls who raced into gunfire, roared into battle and ran into hell to face down evil."
The president was joined by Vice President Mike Pence, Defense Secretary General James Mattis, Secretary of Homeland Security Gen. John Kelly, Chairman of the Joint Chiefs General Joseph Dunford, and national security advisor Lt. General H.R. McMaster.
Trump placed a wreath at the Tomb of the Unknowns prior to delivering his address at the cemetery's amphitheater. He specifically recognized Kelly's son Robert, who was killed in Afghanistan in 2010.
"We grieve with you, we honor you and we pledge to you that we will always remember Robert, and what he did for all of us," Trump said.
Trump recognized former U.S. Sen. Bob Dole, 93, a World War II veteran, who attended the ceremony with his wife Elizabeth.
Following his remarks, Trump visited the grave of Robert Kelly and met with family members gathered in Section 60, thanking them for their sacrifice.
"Since the first volley of gunfire in the revolution, brave Americans in every generation have answered the call of duty, and won victory for freedom in its hour of need," Trump said during his speech. "They made their sacrifice not for fame, or for money, or even for glory, but for country."