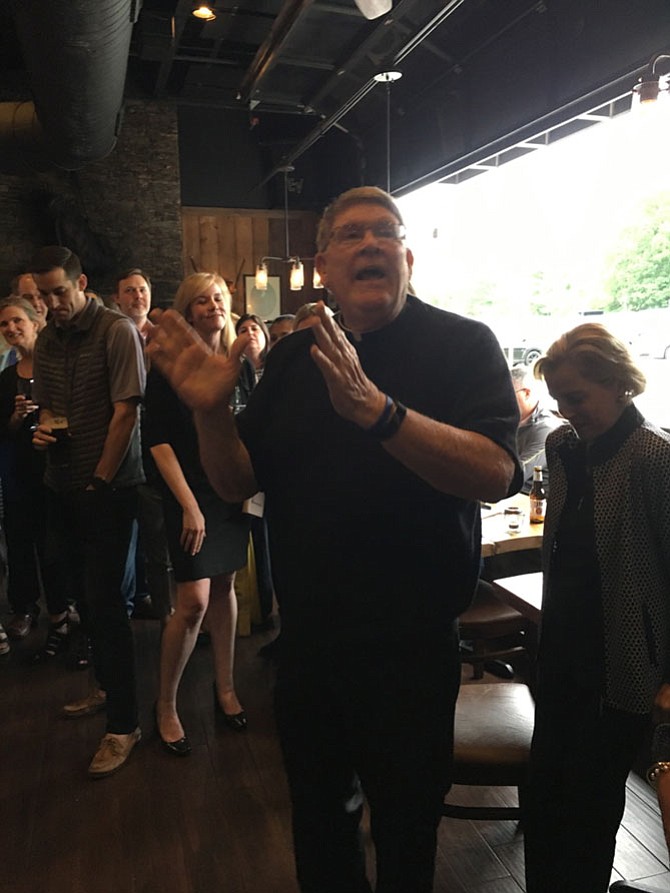 It was a happy hour with a purpose, two purposes in fact.
Life Connection Mission (LCM), a local non-profit organization offering educational, medical and humanitarian services in Haiti, sponsored the happy hour May 24 at Lahinch Tavern and Grill in Potomac. It was a fundraiser for the organization but also a chance for members to surprise Monsignor John Enzler with an early birthday celebration.
Enzler, who prefers to be known as Fr. John, served as pastor of Our Lady of Mercy Parish from 1990 to 2005. He is now CEO and president of Catholic Charities of the Archdiocese of Washington but retains close ties to many in the Potomac area.
He is also a supporter of LCM, according to Christie Ann Short, LCM president.
"He is a great cheerleader and supporter [of the mission]. That's what he does best," Short said.
Though his birthday is not until June 10, Short said the birthday surprise was just a way to thank Fr. John for the work he does.
"It's an opportunity for people to thank him because he does so much for so many people," Short said.
Always on the move, Enzler took just a few minutes to address the crowd of supporters, take a look at the cake, and leave for another event.
From then on, those attending the happy hour, which is an annual fundraiser for LCM, ate drank and talked about their experiences with the mission.
Dale Moyers, one of the owners of Moyers Lawn Service and Landscaping in Rockville, started LCM with a friend, Matt McCormick, in 1998. He said he has served in many positions in LCM and is now an administrator, traveling to Haiti about once a month to oversee the day-to-day operations there.
"An employee invited me to go to Haiti," he said. "He was a good employee and I felt I should accept his invitation. It changed my life. When I saw the poverty and the need, I realized there was more to life than I was living. I started to get involved. We offer a hand up, not a hand out."
Moyers said it's important to see through the poverty to see what is going on in Haiti.
The poverty in Haiti, which the World Bank listed as the poorest country in the Americas and one of the poorest countries in the world, is heart-stopping to many.
Short, who is principal of St. Patrick's School, Rockville, said her first trip to Haiti was very upsetting.
Her mother, Maureen Short, who teaches kindergarten at Our Lady of Mercy School, said she felt the same after her first trip.
Enzler, she said, suggested she go back one more time to see the progress LCM was making and in June, she is making her third trip there.
"I can't wait to go back," she said. "Because the progress this place has made and the work they have done is [amazing]."
She said she usually sorts donated clothes, plays games with the children and does a little teaching while she is there.
Even those who don't plan to visit Haiti and the LCM which operates in the city of Montrouis, can help by sponsoring a child in the mission school or by donating to help with purchasing building supplies, food, farm animals, or for supplies for the mission's medical clinic. The website is: lifeconnectionmission.org.
Angela Tranquill who operates Potomac Glen Day School at Potomac United Methodist Church on South Glen Road, was at the fundraiser with her husband Michael.
She said the school's kindergarteners participate in an annual collection of toiletries and socks for the children served by LCM.
"We want to educate them that they can have an impact on the world," she said. "No matter how little you are you can make a difference."
LCM, in spite of its many Catholic connections, is not connected to or sponsored by any church in the United States Moyers said. He attends Greenridge Baptist Church in Boyds, and the mission runs a non-denominational church in Haiti.
Almost 200 people attended the happy hour, netting $5,500 for LCM, Moyers said.
"We are all volunteers and the money goes directly to the mission, he said.