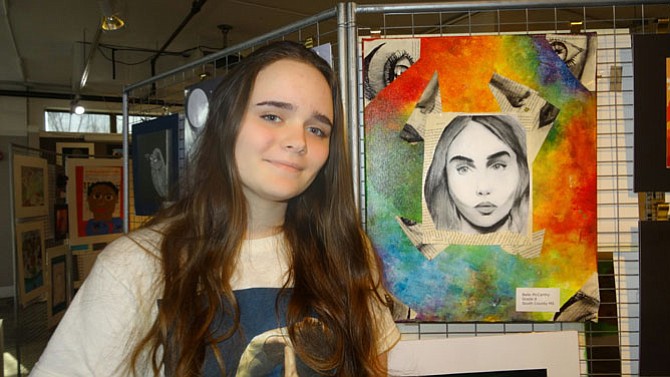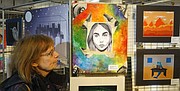 Every year, art teachers from the Fairfax County elementary schools, middle schools and high schools select their students' best artwork, and award those artists with special congratulations and a presentation for everyone to come and see. The 12th Annual South County Pyramid Art Show was held in March in the Vulcan Muse, W-16 building at the Workhouse Arts Center in Lorton.
Among the young artists featured was Lorton resident Belle McCarthy, who attends South County Middle School.
Her eighth grade art teacher, Jan McCormack presented Belle with her award — a congratulatory place in the Pyramid Art Show. Belle said she felt honored and proud that her work would be on display for so many people.
Explaining how she conceptualized her canvas artwork, she said it was a class assignment which used a mixed media self portrait, and she wanted to mix black and white with the color spectrum to show that your true colors shine through when you're doing what you love. Asked what inspired her design, she said she was inspired by everyone's different art styles, whether it's music, drawing, painting, and then decided she wanted her portrait to show that you're at your best when you're doing things that you love.
Belle has been drawing for as long as she can remember, and she recalls drawing for hours after school every day in early elementary, and that she started painting in sixth grade. When asked what her favorite style of artwork is, she said she really loves Impressionism, and that Van Gogh is her favorite artist. She said she likes the way he put emotion and passion into his work, which has inspired her since probably second grade.
Portraits are Belle's favorite art form, and she said she has always been interested in how we can recreate unique humans with such simple tools. She likes to draw portraits of famous people; and she has drawn Kurt Cobain, Ariana Grande, Adele, Odell Beckham, and more. She has drawn people she admires, but said she has also drawn people because of interesting facial features or just for practice. She started taking commissions last year.
She said, "I think drawing is a big part of who I am, and it makes me happy, so I will always do it and continue practicing."
Belle also enjoys basketball and writing, and she said she thinks if she does choose an art career, it would be as a fine artist or an art therapist.
She said, "I know I still have a lot to learn, but I think every artist is different because of the style they express their art in. We all have different stories, that's why we express them differently."