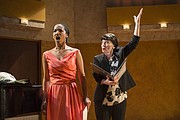 "Master Class," presented by MetroStage in Alexandria now through June 11, features soaring music, dramatic arias, emotional outbursts and an insight into the psyche of diva Maria Callas. Playwright Terrence McNally puts "La Divina" center stage as she inspires, prods and terrorizes her students into giving the performance of their lives, all the while revealing her own life on the stage with memories from "La Scala," her marriages and her art. The play directed by Nick Olcott was inspired by a series of master classes that Callas conducted at the Juilliard School at the end of her career.
According to Carolyn Griffin, producing artistic director of MetroStage: "For theatre lovers, plays about theatre or the arts or the artists are always crowd pleasers and audience favorites. And when the artist is a diva like Maria Callas with such an extraordinary story to tell both personally and professionally, the audience is riveted by the unfolding drama."
She added: "So choosing a play like 'Master Class' by a renowned playwright like Terrence McNally, famous for everything from 'Lisbon Traviata' to 'Ragtime,' it seems almost inevitable. It is great to finally have the beloved Washington actor Ilona Dulaski debuting on our stage as 'La Divina.' Having two well-known opera professors, Nick Olcott and Joseph Walsh, direct and music direct, and casting opera students or recent grads in the student roles made the whole experience feel very real and authentic. And to have our set design modeled after the recital hall at the University of Maryland completed the picture."
Playing the title character of Maria Callas, who died of a heart attack at age 53, is Dulaski. She said Callas's mother heard her sing when she was very young and decided to make her an opera star and thought Greece was the place to be.
Commenting about her character, she said: "This play 'Master Class' is my journey from a fat young, ugly girl who had no friends, all the way up to when I became a star, when I became very, very thin — Audrey Hepburn thin — and I met Aristotle Onassis on board his yacht, the Christina, while I was married to Battista Meneghini."

She said Callas and Onassis had a lifelong, passionate affair while he was the richest ship magnate in Greece and she was the most famous opera singer in that country. "This play is primarily about one of the master classes I taught after Ari died, after he had married Jackie Kennedy when his own wife died, and left me," she said. "I ruined my career because of him; I gave him everything, everything."
The challenge was being true to the script, but also true to Callas, whom she calls an absolutely breathtaking human being, singer and artist, she said. "Her artistry and deep emotion to 'finding the truth to the situation' in all of her performances in her many operas, was a perfection and emotional exploration of content that was unsurpassed by any other singer of the time, possibly ever," she said. "The challenge in 'Master Class' was being true to that insight of artistry and not come across as pedantic or a bullying Diva."
Music director and actor Joseph Walsh is playing the role of Manny, the piano accompanist for the master classes. "He is likely on the faculty at The Juilliard School and works regularly as a coach for the singers," he said. A coach in the opera world helps singers with musicality, languages, diction and breathing, and playing the orchestra part for them.
"This is what I do in life so the part is easy for me to relate to. Manny is supportive of the singers and at the same time very enthusiastic that a legend like Maria Callas is in his midst," he added.
He said while he is trained as a pianist and coach, he is not trained as an actor, "so it was quite a challenge knowing that I was on stage throughout the entire play and had to interact and react at each moment," he said. "Manny is often a comic relief to the intensity of Callas. It has truly been an honor and thrill for me to watch Ilona and the talented young singers develop and display their characters."
Emily Honzel is playing the first soprano role of Sophie as a younger version of herself. "She is eager to please and has a lot to learn," she said. "Her excitement at working with Maria Callas, as well as the honor of being chosen to perform in a prestigious Master Class, are both chipped away slowly throughout the course of the session. But by the time she leaves the stage, she's learned a thing or two about respect for Maria Callas and, most importantly, the music."
She said her biggest challenge was reciting the line, "This is hard," she said. Sophie says it as a response to Maria Callas explaining the English translations of Sophie's Italian aria, she said. "The line seems so obviously a faux pas in the land of opera singers that it hurts a little every night to say it," she said. "I had to work to understand Sophie's motivation behind the line — rooted in her desire to garner sympathy from the audience, which she regards as her support, her defensiveness over her lack of preparation, and her attempt to elicit compassion from the opera diva who she idolizes."
MetroStage is presenting "Master Class" now through June 11, 2017. Performances are Wednesdays, Thursdays and Fridays at 8 p.m.; Saturdays at 3 p.m. and 8 p.m.; and Sundays at 3 p.m. and 7 p.m. Tickets are $55 to $60 with student and active military and group discounts available. The venue is located at 1201 North Royal St. in North Old Town, Alexandria. Call the box office at 703-548-9044 or visit www.metrostage.org.