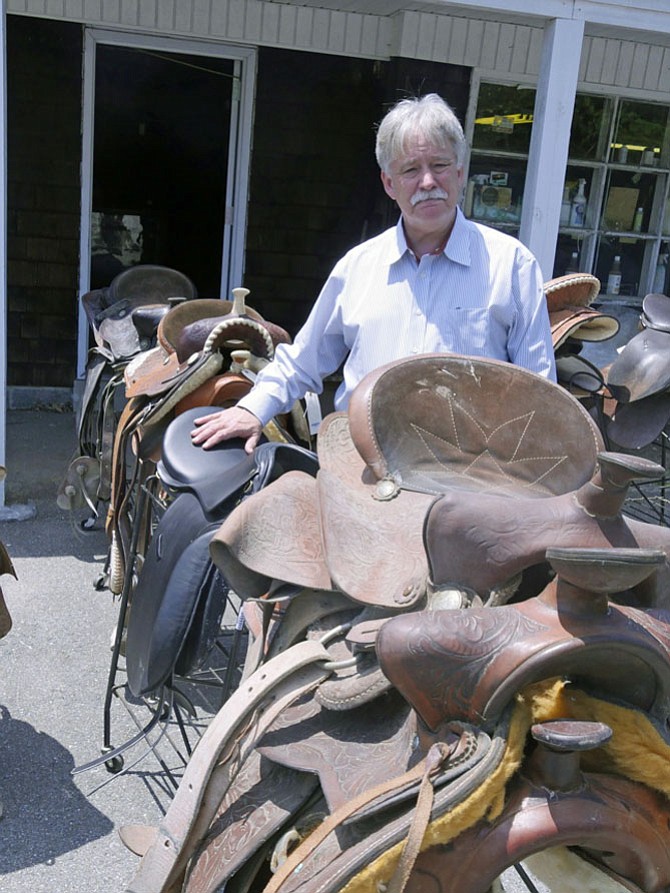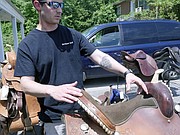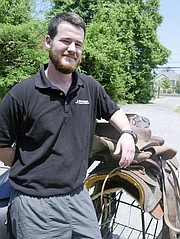 Horse trailers and flatbed trucks crisscross the grass on a blistering May afternoon in southern Maryland. They are waiting to pick up their saddles, tack or riding clothes that they purchased through Rasmus Auction, an on-line bidding company. This is the mop up of phase 3. Chris Rasmus, owner of Rasmus Auctions in Alexandria, says it is a three-step process: identification, preview and pickup. However, he explains that not too many come to preview or kick the tires first. Today only 25 of the customers had come to preview their purchases on Monday-Wednesday, fewer than one-third of the buyers and "even that is a lot."
"It is a marketplace," Rasmus said. "It doesn't matter what you are selling at auction; people want to buy it. Plumbers buy saddles. Whether it is guard dogs or frozen fish, people want to buy it. They are hooked. It is very psychological. They like to see the package on the doorstep."
Rasmus calls over his middle son, Patrick. "What did you know about saddles before this auction?" Rasmus explains that their skill is learning how to tell about their products. Patrick has learned you have to distinguish between whether it is a Western saddle or an English saddle — see these long flaps — or whether it is American or international. And it may be a show saddle. He stretches his arms to the length of the saddle. "I don't have a tape measurer but this distance would determine the horse." Rasmus explains that today's saddles, purchased on-line and being picked up today, had been accumulating for generations. "They were everywhere in the house and the shed was dripping with equipment. This was horse country back in the day but as the marketplace changed, the client wanted to sell off."
Rasmus says his customers for this auction have been mostly ultimate consumers. "They are not big companies but mostly people who own farms, locals." His younger son, Erik, says there have been 46 buyers today with only three or four flippers. Rasmus says these two sons are the heart of the business. "My older son is a lawyer; we need these, too."
Where did all of this start? "I was 16 and my father had a mid-life crisis. He couldn't decide whether he wanted to be a beachcomber or a junk dealer. Lucky for me he choose junk dealer." Rasmus says he had been president of the band at T.C. Williams, "and I had some musical ability so my father sent me to North Carolina to auctioneering school." He demonstrates his auction house voice with a string of indecipherable syllables. "It was two weeks back in time and I was the first long-haired hippie freak they had ever seen."
He continued on to Virginia Tech and then his father asked Rasmus to work with him. "I came back with all of my computer power and the first thing I did was to buy every bankruptcy attorney a fax machine. "My schtick is technology. I was the first in the U.S. to do on-site internet auctions. People thought I was crazy." Now Rasmus is "the godfather of on-line auctions" and likes to teach others how it works. He says when he goes to conventions, people point at him and say, "There is the guy who started it all." Currently he averages three to four auctions a day or about 600 a year.
Everything starts online at $1, "but it's where it ends up, right? Western saddle number 11143 here will probably go for about $200." He says he is currently developing software that awards points for underbidding or overbidding and maybe adds graphics where the customer can spin and other fun elements.
All projects are different. Recently he ran the auction for 10 floors of a big law firm in D.C. "It had to be done in four days but we did it." Rasmus says he is the rainmaker. "I evaluate the opportunities and come up with complex solutions for complex problems." Sometimes he explains there isn't enough value for a potential auction or the removal would be too complicated.
A customer has loaded the back of his truck with six saddle carriers. "I bought 24 in the first auction and about 20 in the next." His truck heads down the narrow two-lane road toward home where he plans to sell them later today.