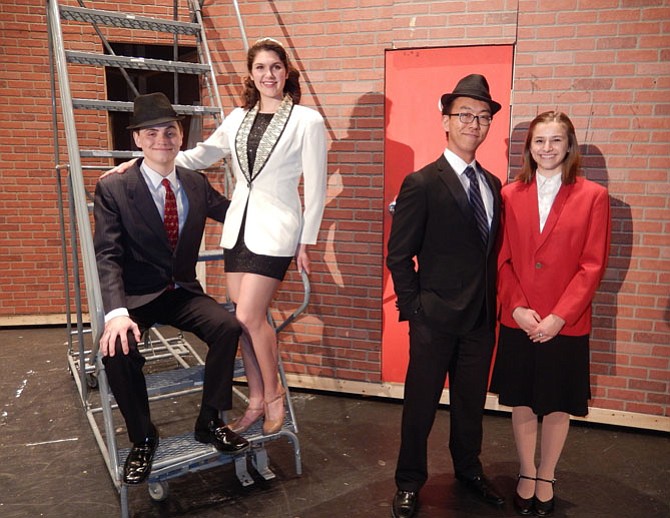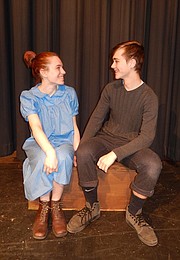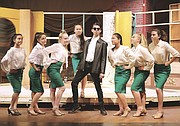 The 2016-17 National Capital Area Cappie nominations are out, and Fairfax, Woodson and Paul VI high schools received a total of 17 nominations. Fairfax received 10; Woodson, five; and Paul VI, two.
The three schools and all the other nominees will find out who'll win what, Sunday night, June 11, at the 18th annual Cappies Awards Gala at The Kennedy Center in Washington, D.C. Meanwhile, the directors at these schools are delighted with the recognition their students and theater programs are receiving.
Fairfax High School
Fairfax's nominations were for its production of the rollicking musical, "Guys and Dolls," about love and gambling in 1950s New York. "The cast, crew and creative team of 'Guys and Dolls' is thrilled to have been recognized so generously by the Cappies organization's team of student critics," said Director Erich DiCenzo. "This year's 10 nominations add up to a total of 50 nominations over the past four years."
"While we could not feel more honored and gracious from our recent success, we also want to congratulate all other participating schools in the Cappies program," he continued. "Our favorite part of the year is being able to dress up and celebrate the arts with the peers, friends, colleagues and supporters who make up our theater family."
Fairfax's nominations are as follows:
Graduating Critic – Sierra Hoffman
Marketing & Publicity – Andy Giron, Sierra Kaplan, Chlyne Lillo, Caroline Whitacre
Special Effects and/or Technology – Thomas Iodice
Costumes – Neva Sedlak
Sets – Thomas Iodice
Choreography – Sophia Poteet, Michael Sulpizio
Female Vocalist – Tori Garcia
Male Vocalist – Zion Jang
Comic Actress in a Musical – Emily Dillard
Woodson High School
Woodson's Cappie nominations – including Best Play – were for "Peter and the Starcatcher," the prequel to the iconic tale of "Peter Pan."
"I'm so proud of my cast and crew for their total commitment to this show, on stage and off," said Director Terri Hobson. "There is so much talent there, and it was recognized, over and over again, in critics' reviews and by patrons with comments about how engaged and engaging the cast was – and that reflects on the crew, as well – in their performances."
"This play was so liberating for everyone, allowing cast and crew alike to make fun choices with no apologies," she continued. "That kind of 'permission' was so positive for everyone, and it made the show magical. I'm really proud of our nominees, and of every single person who made 'Peter and the Starcatcher' a very special show."
Woodson's nominations are as follows:
Ensemble in a Play – The Lost Boys
Comic Actress in a Play – Meryn Holtslander
Comic Actor in a Play – Andrew Black
Lead Actor in a Play – Jack Hopewell
Best Play
Paul VI High School
Paul VI was nominated for "Little Shop of Horrors," a quirky mix of music, romance and a man-eating plant. And Kathy d'Alelio, in her first year as head theater director at the school, couldn't be happier.
"The response to our musical was wonderful," she said. "I am so very proud of the quality of the production and the performances all of our students gave. To have four of our students recognized as among the top five – out of 60 schools in their respective categories – is the chocolate-marshmallow frosting on the cake."
Senior Drew Goldstein, who portrayed the sadistic dentist, received a nomination for Comic Actor in a Musical. "Being nominated for a Cappie is such an honor, and I am extremely excited to represent our school at The Kennedy Center," he said. "The dentist was one of the most fun roles I have played, and I feel extremely blessed to be recognized."
Nominated for Best Set were Andrew Conley and twin brothers Bobby and Tommy Kelleher. "I was very pleased to hear about our Cappie nomination for Sets," said senior Bobby Kelleher. "It's a pleasure to know that the hard work and the long nights we spent constructing and finishing the set paid off."
"Of all my other Cappie nominations, I'm most excited about this one," added Tommy Kelleher. "It's not because it's another one to add to my belt; but rather, because I really believe that this set deserves to win."
Furthermore, he explained, "I believe my brother deserves to be on that stage and thank those who believed in him and helped him through the struggle of designing and building this massive set. And I'm also quite excited that he and I get to go to The Kennedy Center and sit with all the other nominees and with one of our best friends, Andrew Conley."

Paul VI's nominations are as follows:
Comic Actor in a Musical – Drew Goldstein
Sets – Andrew Conley, Bobby Kelleher, Tommy Kelleher