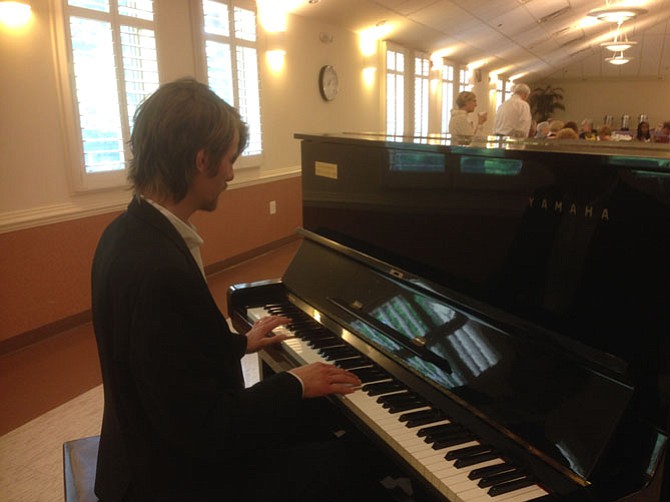 Fairfax — Attendees at the Shepherd's Center fashion show weren't looking for the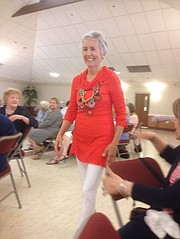 latest fashions when they sat down at their annual fundraiser, but they did see something they'd be more comfortable in from Soft Surroundings, and had a few laughs and that's what the afternoon was all about.
"This happens to be an event for socializing," said Lisa Carroll, one of the leaders at the Shepherd's Center of Fairfax-Burke. "All the models are active volunteers, they all look very good, they're lovely," she added.
Attendees purchased their meals, which were partially donations from area businesses, and that money goes to Shepherd's Center, so it wasn't one of their major fundraisers of the year, but it was also a good chance to see what Soft Surroundings had to offer. "Cozy," and "comfortable," were used more than once by emcee Madelyn Weaver, who is also the store manager of their Fairfax Corner location.
After the meal was served, the eight volunteer models came out one by one, and paraded around the room as Weaver narrated. "A touch-worthy texture," she said about one. "Ultra-flattering top," she said about another, keeping in mind who her audience was. "This will make you look 10 pounds lighter ladies," was another comment that brought on a chuckle from the group, along with "gauze is the older sister of linen."
Soft Surroundings was established in 1998 in North Idaho. The franchise in
Volunteer Models
Liz Curtis
Joanne Dair
Judy Kratzer
Robin Lanning
Linda Leightley
Leslie Minor
Kim Moden
Mary Walker
Ann Wickersham
Fairfax Corner is the only one in the area besides a store in Annapolis, Md. Weaver liked taking part in the fashion show because "it's getting our name out there and being part of the community," she said.
Toni Ferraiuolo from Springfield liked what she saw and grabbed a catalog. "I'm going to go to this store, I liked them all," she said.