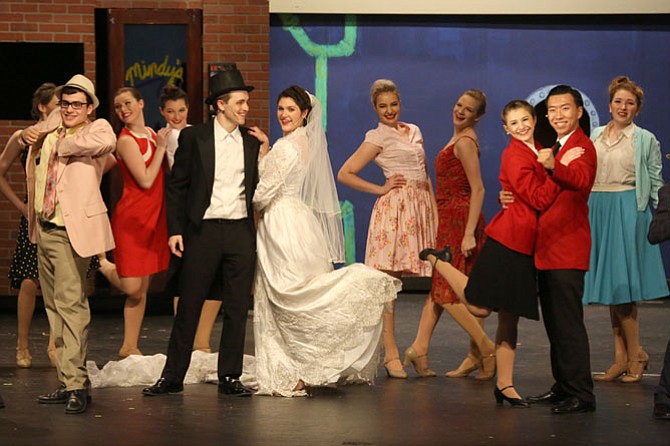 The curtain opens and the streets of New York burst to life with entire subplots taking place before the end of the overture in Fairfax High School's production of "Guys and Dolls."
Written by Frank Loesser, Guys and Dolls is a classic American musical that tells the story of Nathan Detroit and his passion for gambling. He crosses paths with Sky Masterson and they both end up facing the hard truth that love is more important to them than gambling. They both end up marrying their respective "dolls" and turn away from gambling and toward God.
A phenomenal ensemble held this show together. In big group numbers like "A Bushel and a Peck" and "Luck Be a Lady," the energy was consistently strong and the dances were precise and well coordinated. The entire ensemble had purpose and was fun to watch onstage. There was never a dull moment.
Zion Jang (Sky Masterson) completely embodied the self-assured, almost cocky Masterson. His confident air and commanding stage-presence made him the immediate focus for the audience. Exuding charisma and charm, Jang performed valiantly in his lead role. With sharp movements and exact timing, Emily Dillard (Miss Adelaide) captured the character of Adelaide. Through over-the-top acting and voice, Dillard commanded the attention of the audience.
Hayden Giles (Nathan Detroit) displayed a wide range of emotions and impeccable comedic timing to bring the character of Nathan to life. Tori Garcia's (Sarah Brown) pure soprano earned her thunderous applause after numbers like "I'll Know" and "I've Never Been in Love Before." Although occasionally accents made it hard to hear or understand certain lines, the accents maintained by a good portion of the cast remained consistent, and could be seen to have added to the New York atmosphere. Because of his endearing personality and energetic movements, Densmore Bartly (Nicely-Nicely Johnson) became an audience favorite.
With seamless transitions between scenes, the crew was able to maintain the pace of the show, while also drastically changing the setting. An efficient running crew made these quick, smooth transitions possible. The set design was an impressive two-story model, which was on wheels to allow for quick and easy transitions that never detracted from the performance itself.
The complex choreography that was executed throughout the performance was likewise impressive. Dance Captains (Sophia Poteet and Michael Sulpizio) did a commendable job choreographing large group numbers that were impressively executed.
Fairfax High School took a challenging musical and gave a spectacular performance that was full of energy and life.