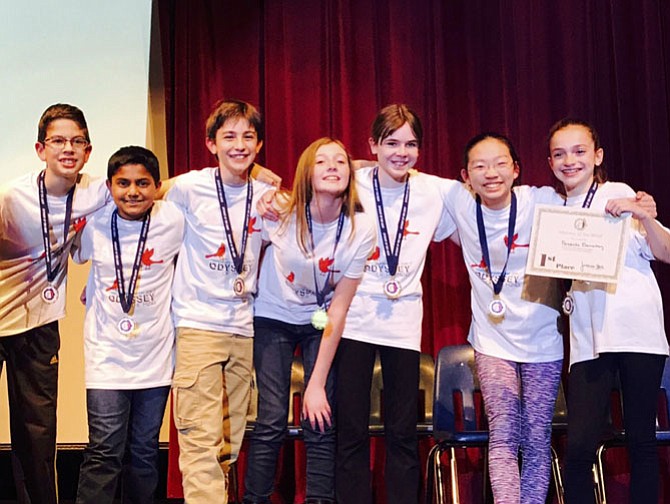 After top placements at the regional tournament in March, and the state tournament in April, a Forestville Elementary team of sixth graders is heading to World Finals in Michigan on May 24-28 where they will compete against teams from around the U.S. and world.
The team members are: Natalie Hutchinson, Raman Mathur, Katie Merrill, Connor Oakes, Mulan Pan, Aliaa Saleh and Nick Spoto.
The team's Odyssey problem required them to build a structure from only 15 grams of balsa wood and glue that will balance and support as much weight as possible. The team also must solve a separate problem on the day of the tournament spontaneously and demonstrate creativity and teamwork. At the state tournament, their structure held 887 pounds, and their overall score ranked fifth in the U.S. for their division. In addition to the structure, they created an eight-minute performance with a "Back to the Future" theme that incorporates comedy, a dance routine and solves specific problems required for the competition.
FORESTVILLE ELEMENTARY has had many successful Odyssey teams over the past six years. Odyssey was always part of the school's Curriculum Enhancement program, but it was relatively unknown to most families at the school. In Spring 2012, a team led by third grade AAP teacher Jeff LeLoup accomplished what no other Forestville Odyssey team had done before by winning regionals, states and participating in the World Finals tournament. After that, participation in the Odyssey program at Forestville took off.
In Fall 2013, 10 new Odyssey teams were formed at the school. Mark Spoto and Rajive Mathur, Forestville parents, volunteered to coach a team with their third grade sons, and five other classmates. A year later, Robin Merrill joined the team as a coach. Mark Spoto said, "I wanted to coach a team so I could work on something with Nick and his friends. I was excited to coach him in a STEM related competition, since I had seen a spark of interest in that from him."
At their first tournament, in March 2014, they placed third at the regional tournament. Last year they competed at the state tournament and narrowly missed going to Worlds. This year they have finally achieved their goal and are headed to Michigan State University to compete at the end of this month. Team member, Katie Merrill, said "Odyssey of the Mind has been great in so many ways: you practice thinking creatively, you spend extra time with your friends and you learn to write better … you even learn to use power tools." Spoto added: "This program instills many different skills in these kids ranging from teamwork and engineering, to focus and discipline in meeting deadlines."
Since 2012, there have been many teams from Forestville ES that have competed at regionals and states, and four teams from the school have gone to World Finals previously (2012, 2013, 2014 and 2016). At the end of this month, this team will be the fifth.
In addition to Forestville ES, the Odyssey of the Mind program is strong across Northern Virginia. There are a number of teams from Fairfax County going to Worlds, including teams from Cooper Middle School and Kilmer Middle School – the latter with a few students from Great Falls.
Odyssey of the Mind is an international education program that provides creative problem solving opportunities.

STUDENT TEAMS work to apply creativity to solve problems that range from building mechanical devices to presenting interpretations of literary classics. Teams are coached by parents, who serve as facilitators, while the students do all the work. This is a 6-month project that begins at the start of the school year in September with the goal of presenting at regional tournaments the following March. Winners at the regional tournaments then go on to compete at a state-wide tournament, with top teams then going on to the World Finals.