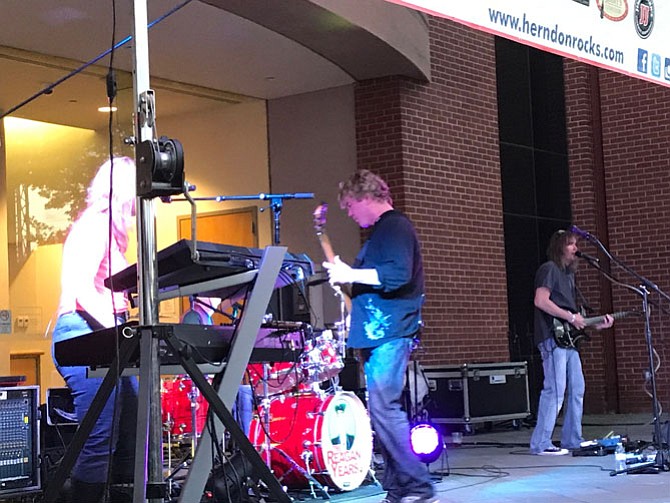 Herndon — For the residents and workforce of the Town of Herndon and surrounding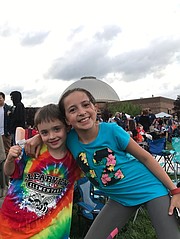 communities, summer doesn't start June 21. It's already here. Summer began with the opening night Herndon's Friday Night Live! concert series. For arriving concertgoers not only was there plenty of free street, municipal lot, and underground garage parking, the event was — and will remain — free and open to the public.
At 7 p.m., May 6 the five musicians from the band, The Reagan Years, stepped up on the outdoor stage located on the Town Hall Green, 777 Lynn St. in historic downtown Herndon and summer began. To the delight of the crowd, the East Coast's original '80s tribute band played the greatest hits from the time when Ronald Reagan was President.
Food and beverage service was available to concertgoers, so there was no need to cook dinner before coming. Dominion's Pizza and Tur Cuisine were on hand, as was Jimmy's Old Town Tavern (Jimmy's will rotate weeks with Jimmy John's throughout the summer). Dairy Queen provided a selection of desserts, and Herndon High School Boosters sold fresh popcorn. FNL featured deals on drinks, with a portion of the tip money from alcohol going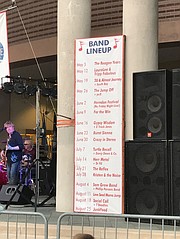 to benefit the Herndon High School After-Prom and All Night alcohol-free Grad Parties.
As the night continued, families, singles, young and old enjoyed the music and meeting old friends and new friends. Children played ball and ran in the grass while their parents sat in lawn chairs catching up and chatting with friends.
The Town Green, the site for all FNL music, is located behind the new Municipal Building at 777 Lynn St. in Historic Downtown Herndon. It is adjacent to the W&OD trail and the library. For more information about Friday Night Live, visit herndonrocks.com.