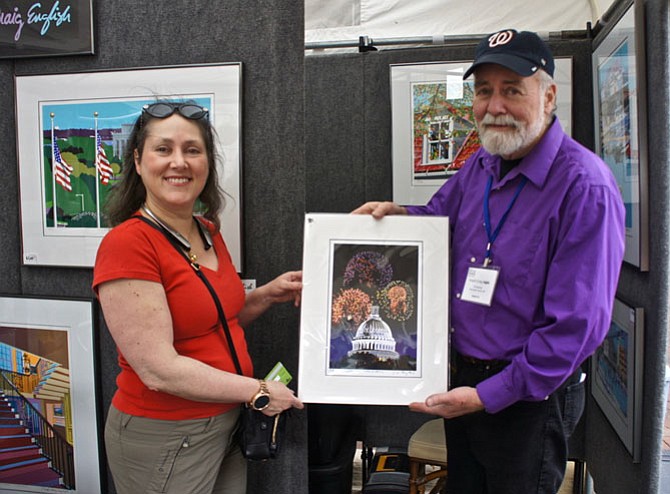 Reston — The sun was not shining during the May 20-21 weekend of the 26th Northern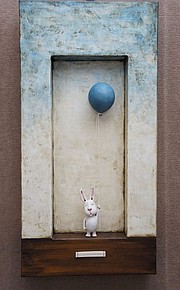 Virginia Fine Arts Festival, but the streets of Reston Town Center couldn't have been brighter, decorated with the colorful offerings of some 200 artists from around the country and Canada, working in paints, wood, film, metal, clay, ceramics, and more. Booths and performance venues spanned 11 Reston blocks where first time browsers and first time vendors mingled with veteran artists and festival goers.
Joseph Craig English, who occupied Booth 331 on the corner of Library and Market streets packed with his vibrantly colored prints, is one of the veterans. "I haven't missed a year yet," said English, who brings his works from his studio in Washington Grove, Md. "This is a wonderful show, the top show on the East Coast." English said it was an honor just to be included in the event, noting that to participate, artists had to submit applications with illustrations of their work. A thousand artists may apply, "but an impressive panel of jurors narrows down the applicants and chooses just so many per category of art type. About 200 artists are accepted, so I am thrilled to have been chosen to show my works here, year after year," said English.
After 26 years of festival appearances his booth was a popular stop. Visitors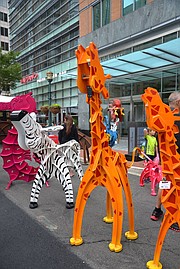 were attracted to the bright depictions of what English describes as "things we see everyday but often take for granted," and friends and followers who have come to know him over the years wanted to check in for a visit, and see what new pieces were on display. "Some of these folks are now my second and third generation collectors. Their parents, maybe even grandparents have purchased some of my work. Boy, does that make me sound old," he said, "but I love to come here and catch up with so many great folks who have been so kind as to appreciate my works over the years."
Even as he spoke, the English booth welcomed a young woman from Great Falls, who said she had known the artist since she was a child, and was stopping by to "visit" a favorite print.
Next in came Nancy Tachel, who lives and works in the Tysons Corner area, and who wound up purchasing a print of the Capitol Building, depicted with a fireworks display in the background. "It's just perfect for my office," said Tachel. "This is my first time at the Arts Festival, but I know it won't be my last. The quality and the variety of art on display here is fabulous."
JUST AROUND THE CORNER from English's setup, Kina Crow, from Pittsburgh, Pa., was drawing a crowd with her sculpted miniature figures, set in "cubbies" within paintings. It's a perfect blend of her talents and her personality, according to Crow. She started as a painter, then moved into clay. Because of a competition that required the making of "tiny little figures," she discovered the outlet she needed to "bring out our inner child in a really beautiful way." As visitor Jonathan Walnich from Arlington put it, "it's whimsical without being silly, works with fun puns that adults can really enjoy, with just a kick of 'kidness' about it."
There was plenty of "useful" art to be found at the festival, as well as the kind to be hung on a wall or displayed on a shelf. Larry Brown from Spruce Pine, N.C. attracted quite a bit of attention with hand crafted wooden floor and table lamps with hand-painted, mushroom shaped shades. Other artists also offered wood crafts and furnishings. Pottery, both decorative and functional, was also on display. There was jewelry, made with any number of different materials, and clothing made with textiles and colors that guaranteed the item to be one of a kind. There were handbags of fabrics, of leather, and even some made of steel mesh.
Frequent festival-goers Pat Gauthier of Reston, and Suzanne Gauthier of Potomac Falls — "If we're here, we go!" said Suzanne — were found scooping up hand-crafted wooden kitchen spoons, ladles, and tongs, carved by the gang at Jonathan's Wild Cherry Spoons. "We're just three men, carving out a future of spoons while keeping them all made in America," is the motto of carvers Jonathan Simons, and brothers Shawn and Neil Claypoole from Kempton, Pa.
Musical instruments were also featured as art forms at the festival, much to the delight of 5-year-old Olena R. of Ashburn who picked up a McNally three-string Strumstick and immediately began playing like a professional. She was so good, that her dad just had to buy her one of theseinstruments that look like a cross between a miniature guitar and a dulcimer.
GroundShare Arts Alliance, Gin Dance Company, Ravel Dance Company, and the Classical Ballet Theatre performed works created just for the festival at Hyatt Park and in the Reston Town Square Park.
Judges selected 10 "Best in Category" artists. Each received a $500 cash prize, a Blue Ribbon, and automatic entry in next year's Northern Virginia Fine Arts Festival.
The festival, with free admission but a suggested donation of $5 for the expected 30,000 attendees, and the Friday night opening reception are the largest fundraisers for festival host Greater Reston Arts Center (GRACE). The monies raised help sustain the organization's year-round arts programming and "GRACE Art" education for 40 schools in the D.C. region.