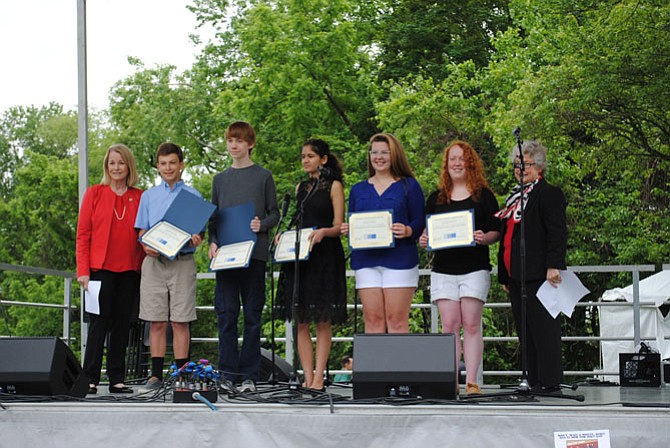 McLean — The McLean Citizens Association honored five McLean High School students at McLean Day on Saturday, May 19. School Board member, Jane Strauss and Del. Kathleen Murphy (D-34), presented the Teen Character Awards on the main stage.
The award goes to students, who have gone above and beyond in the community by caring for others in need in their neighborhood or community.
One of the award winners, Neha Vutakuri, founder of the Breast Cancer Prevention with Herbs and Spices foundation, dedicates her time to informing women of the health benefits of spices. She has developed an app called MySpices to assist in breast cancer prevention through knowledge of seasonings.
"I created my organization after I saw how many women were suffering. As a result I saw how many families were suffering and that was why I decided to start this organization," said Vutakuri, a senior at McLean High School.
These students were recognized not only for their own works such as Garrett Detter for volunteering in the Special Olympics or Mairin Fallon, showing leadership as an equine volunteer, but also as examples to others.
The award showed appreciation for those students who strived to reach out to their community such as Helen Ganley who volunteered to be a volleyball coach for middle school students and Ian Murphy who began organizing a food drive in 2008.
"We strive to provide our children with the very best education possible, but as important as reading, writing, and arithmetic it is as important to give back," said Strauss.