Dr. Cas Blanchard, director of girls athletics at The Potomac School, has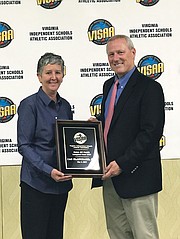 been honored as one of seven members of the Virginia Independent Schools Athletic Association's (VISAA) inaugural Hall of Fame class. She was inducted into the Hall of Fame at a ceremony held in Richmond on May 8.
Blanchard was recognized for her outstanding accomplishments as an educator and her extensive work with the VISAA. She helped to establish the organization's structure as a member of the initial VISAA committee from 1997 through 1998, then served as the northern region representative on the VISAA Executive Committee from 2001 to 2014. Beginning in 2002, Blanchard concurrently served as VISAA secretary. Since 2006, she has chaired Virginia's statewide sports committees for girls tennis and lacrosse, having founded the girls lacrosse committee.
Blanchard has been The Potomac School's director of girls athletics since 2001. She also coaches in Potomac's Intermediate School girls basketball and soccer programs. Asked what she most enjoys about her job, she said, "It's a privilege to work with our student-athletes, coaches, and parents. There is a terrific spirit at Potomac that makes every day enjoyable." She added, "I always like to see a team improving over the course of time. And every once in awhile, you have a special team that has a special season, and that's really rewarding."
Head of School John Kowalik said, "For the past 16 years, Cas Blanchard has set a high standard, encouraging our student-athletes to give their best in terms of effort, perseverance, sportsmanship, and teamwork. At Potomac and across the state, she is recognized as someone who genuinely cares about students and has helped to make athletics an integral aspect of independent-school education. We are delighted that she has received this honor from the VISAA."