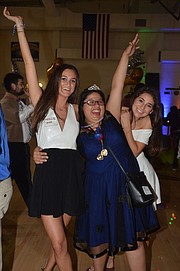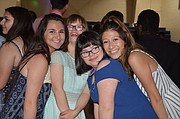 For teenagers across America, prom is the pinnacle of the traditional high school experience. And, the non-profit organization KEEN Greater DC (Kids Enjoy Exercise Now) makes sure that local young adults with significant special needs don't miss out. On the evening of Friday, May 19, the Bullis School for KEEN, a club of Bullis School students volunteering with KEEN Greater DC, hosted its second annual prom at the Bullis School in Potomac. On this prom night, nearly young 100 adults arrived at Bullis to celebrate youth in a way that all teenagers should – regardless of the physical or intellectual limitations that commonly prevent them from doing so.
"It's about this time of year that most kids this age are getting driver's licenses and college acceptance letters," said Andrea Littell, the mother of 18-year-old Frances Stephens, who has an intellectual disability and has been with KEEN for eight years. "Frances isn't experiencing those things. But, with this prom, she gets to share in a typical high school experience. She's been talking about it all week. She told her teacher that she wouldn't be in school on the day of because she needed to spend the day getting ready."
For 25 years, KEEN has provided free physical and recreational activities for young people with developmental and physical disabilities. When participants join KEEN, they become "KEEN athletes." KEEN provides regular programming as well as special events. At every gathering, whether it is an open-gym hour or a Zumba class, KEEN pairs each athlete with a volunteer – and, sometimes two – to ensure everyone's safety and wellbeing. At this year's prom, for example, each prom attendee's date to the dance was a Bullis student KEEN volunteer.
Greater KEEN DC started when it launched a bi-weekly open gym hour, where children with disabilities could get much-needed physical fitness under the supervision of qualified volunteers. Over the years, KEEN has evolved to offer more. They have never – and will never – turn away any child with a disability, and this practice keeps KEEN growing along with its athletes. As part of this trajectory, KEEN and its various divisions and chapters now offer events like this prom for older youths and young adults, some of whom have been with KEEN since they were young children.
"My son, Ravi, has been involved with KEEN for 15 years, since he was just 5 years old," Preeti Chojar said. "KEEN has had a huge impact on him. Before KEEN, it was a struggle to get him to do any kind of physical fitness. He'd just stand still, for example, during songs like 'the hokey pokey.' After a year and a half with KEEN, Ravi could finally follow the directions and do the dance. Now, he's excited about any KEEN activity he attends. He knows which days each of the events are, and without us having to remind him, he's always ready in time. He's been so excited for his first prom, and he's having a great time."
While many parents did go to the prom to watch their children revel in a teenage milestone, KEEN allows – and encourages – parents to leave their children at the events for their own respite. Parents can relax knowing that KEEN athletes are always in good hands. The organization has an official screening process, and, those who volunteer with KEEN tend to stay involved.
"I've been involved with KEEN for two years through Bullis' club," said Camille Helmig, a senior at Bullis School, and one of the organizers of this year's KEEN Prom. "Two seniors from last year established Bullis School for KEEN, and this year, we have about 20 coaches, which is what we call volunteers. Most of the coaches, including me, have stayed with the same buddies they started volunteering with, so we've gotten to know their specific needs and strengths. That helps everyone make the most of the time that they're at KEEN events and programs. I love it so much that I will definitely stay involved after I go to college. KEEN has had a huge impact on me, and the volunteering I do is helping me decide the path I'll take when I'm in college."
Helmig, along with her co-president and other volunteers of Bullis' KEEN chapter, coordinated everything and fundraised for this year's KEEN prom. They had the support of their school and KEEN Greater DC at large, but they did everything themselves. She said the Bullis community has become very passionate about the KEEN mission. The Bullis chapter's goal was to raise $1,500, which they exceeded.
"We were in charge of décor, arrangements, and fundraising," Helmig said. "We ended up raising more than $5,000. People were so excited and willing to help out because the first-ever prom last year was such a big deal. We got media coverage and everything, so a lot of people in the Bullis community and surrounding it learned about what KEEN does and how it does it. After realizing all that KEEN has done, so many people wanted to contribute right away."
Bullis junior Sophie McIntyre was the club member that took charge of coordinating the prom this year, and, under her direction, the scope of attention on the KEEN Prom reached a new level. Last month, Facebook contacted McIntyre after seeing Bullis' Facebook fundraising page that highlighted this year's KEEN Prom.
The producer with the fundraising leg of Facebook was immediately inspired by KEEN, and wanted to shine its own light on the prom, and the Bullis students behind it all.
"We needed a way to raise funds for this prom, so I pursued Facebook's new tool for fundraising," said McIntyre, a junior, and the prom date of a long-time KEEN athlete. "The producer contacted me and asked if she could send a crew to this event so they could film it. And, we got permission for them to be here at prom. From what I understand, they'll use the footage for their own promotional video. It's really cool to think that we're high school students, and, already, we're helping a huge company grow their way to help charities."
The 2017 KEEN Prom theme was "Wild about KEEN," and Helmig insisted that the safari-esque decorations were every bit as impressive as those of Bullis' own prom a couple weeks ago. The student organizers did everything they could to make sure that the KEEN athletes, their "buddies," got to relish every element of a typical prom.
"Grand gestures are the norm for prom proposals," Helmig said. "When you ask someone to prom, it's kind of expected that you do it in a big way. We tried to match modern trends like that for the KEEN Prom, so each volunteer decorated a big poster with the name of the KEEN buddy they were assigned to as their date. When their assigned buddy walked in the door, the volunteer would hold up their sign and follow through with a prom proposal. When their buddy for the night accepted, they gave their buddy a boutonniere or a corsage. After all this, the KEEN buddies got their photos taken by a professional photographer here."
From recruiting around 100 National Honor Society volunteers at Bullis to figuring out all the event logistics, the students with KEEN Club worked together to execute the KEEN Prom.
"Being at the prom here tonight, it's all more than worth it," Helmig said. "The most touching thing for me has been seeing the parents' faces as their kids walk in these doors, all dressed up, and also when they see their kids on the dance floor, having an amazing time as they experience the kind of thing that all high school students do. I saw so many tears of happiness."
To learn more about KEEN, visit www.keengreaterdc.org.