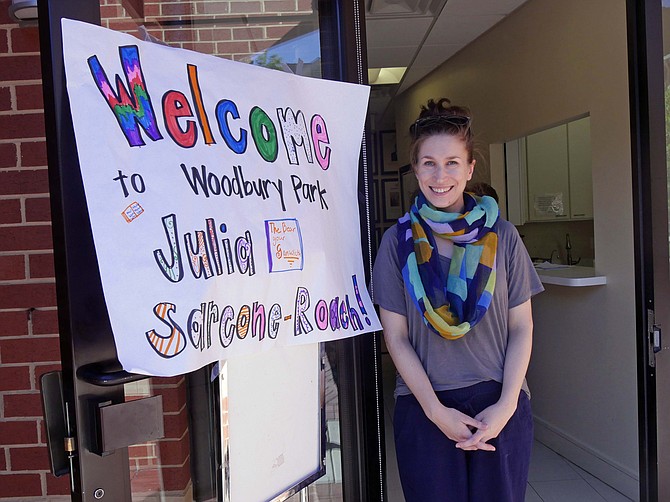 A colorful hand-constructed sign tacked to the front door greets Julia Sarcone-Roach. She has returned to Arlington where she grew up to read her most recent book, "The Bear Ate Your Sandwich." Seventeen small faces are gathered around her chair at Woodbury Park Apartments where The Reading Connection (TRC) has organized a special event on May 15.
She begins, "It all started with the bear." As she leafs through the pages, Sarcone-Roach says, "besides the bear on this page, this is my little brother Michael. I can draw whoever I want in my books." She adds, "I always try to include a red umbrella somewhere." A small finger points to the page and asks, "Is that your pet?"
Sarcone-Roach says she gets her story ideas from just walking down the street. "When I sit in the subway I daydream. Sometimes I felt like a big bumbly bear myself. I thought, what if I was the big black bear and everyone was so busy that nobody saw me." She continues, "I got to eat a lot of sandwiches in research." She thinks her next book will be about a bear again and there will be a bakery in the book. "I'll get to eat a lot of cookies." One girl in the front row volunteers that she wrote a book review on "Excellent Ed," the other book to be read today, and that everybody liked it.
A small hand pops up and a child asks, "How long does it take to write one of your books?" She says it can take a couple of years. First she draws all of the illustrations in black and white and submits them to an editor. The editor asks questions and makes it better. "It takes a while; there are a lot of drafts and then I draw it in color. We have a specific page count so I'm always jiggling words." Then she sends it to China where it can take a year to get published. A boy asks why does it go to China and then asks if she is going to draw today and adds, "I hope it doesn't take another two years."
"Now here is the fun part. So who do you think ate the sandwich?" She pulls out a large piece of white paper and hangs it over an easel and draws a crust of bread at the bottom. "Now what should we put on our sandwich?" A small voice yells out, "A rabbit!"
"Hmmmm," she says. "A rabbit sandwich." Quickly a pair of long ears appears on the bottom slice of bread with whiskers, and a bunny takes shape. Tomatoes, lettuce, a turtle and gummy bears get layered with a narwhal along with catsup that dribbles down the edge. "Now we need a bear looking at this amazing sandwich."
Sarcone-Roach says she grew up in Arlington and graduated from high school there, then went to school in Rhode Island. "I studied illustration and then got a job at a children's book store. Now she resides in Brooklyn where she has lived since 2002. She has written and/or illustrated five children's books. One of the children suggests she should make a short story about this moment. "I have always loved books and storytelling. I love looking and listening, and kids have a wonderful wonder about them." She looks at the clash of nature in having things out of place, like a bear in a city.
Three Arlington teachers founded TRC in 1989 at an Arlington domestic abuse shelter. In 2017 TRC served more than 1,500 children and gave away more than 12,000 books. Its purpose is "to share the magic of reading with at-risk children and families."