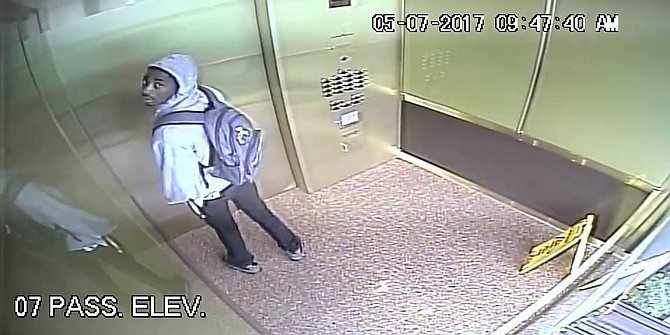 Police have released images of a suspect in the 1500 block of Wilson Boulevard as he fled the area following a sexual assault that occurred at a residence in the 1500 block of Key Boulevard on Sunday, May 7.
At approximately 9:45 a.m., police responded to the report of an unknown male suspect who entered the residential building and began knocking on various apartment doors claiming to be a maintenance worker. Once the female victim opened her door, a physical struggle ensued between the victim and the suspect. During the attack, the suspect sexually assaulted the victim. The suspect then fled the scene on foot.
Detectives from the Arlington County Police Department's Special Victims Unit and officers from the Second District Community Policing Team met with the condo association board and residents of the Atrium Condominium about the May 7 attack. Following the meeting, detectives remained on scene speaking with residents in an attempt to collect additional information. Police continue to ask that anyone with information on the identity of the suspect or details surrounding this investigation call 703-228-5050. Information can also be reported anonymously to Arlington County Crime Solvers at 1-866-411-TIPS. Crime Solvers tips leading to the arrest of the suspect may be eligible for a cash reward.
Prior to the sexual assault, the suspect was captured on surveillance video attempting to gain entry into a residential building in the 1900 block of Wilson Boulevard. The suspect is seen waiting in the entryway prior to follow a resident into the secure building. The suspect is then stopped by the concierge who refused further access into the building. The suspect left the area on foot in the direction of the 1500 block of Key Boulevard.
The suspect is described as a black male in his early 20s, approximately 6'0" tall with a slim build. He was wearing a gray hooded sweatshirt with dark pants and carrying a backpack.