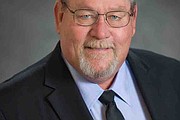 Mark Turner III, grandson of the former Dranesville District supervisor who operated a top-producing dairy farm in Great Falls in the 1940s, died at home in Lovettsville, Va., May 13 after fighting small cell lung cancer for nine months. He was 61.
Mr. Turner, a chief building engineer for Transwestern Commercial Services, was deeply involved with preserving the history of Great Falls and helped preserve his family's farm in 1998 as The Turner Farm, a 53-acre Fairfax County park for the practice of equestrian sports and astronomy. He served multiple terms as president of the Great Falls Historical Society and was a leader of Cub and Boy Scout Troop 55. He loved to fish for stream trout and for striper in the Chesapeake Bay. He owned and rode a Harley Davidson "Screaming Eagle" and often attended the "Rolling Thunder" Memorial Day celebration in Washington, D.C.
His grandfather, Mark Turner Sr., and his father, Mark Turner Jr., were both born in Great Falls farmhouses that were part of the family farmland. His father's dairy farm operated until his herd of prize Holsteins was auctioned off in August, 1969.
He is survived by his wife of 23 years, Joan Shark Turner; daughter, Nicholi (Nikki) Isabella Turner, of Pipersville, Pa.; son Mark Turner IV, of Lovettsville; sisters, Jean Turner of Los Angeles Calif., chair of the physics and astronomy department at UCLA, and Susan Turner Sumpter of Mayo/Edgewater, Md.
The funeral will be held at 3 p.m. on Saturday, May 20, at Catoctin Presbyterian Church in Waterford, Va. In lieu of flowers, the family requests that donations be made to a small cell cancer research organization of choice or to Virginia Cancer Specialists, 8503 Arlington Blvd., Ste. 400, Fairfax VA, 22031.