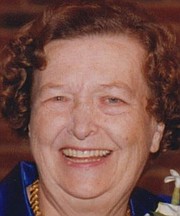 Jerene Elizabeth Thomas of Great Falls, beloved mother, grandmother, great-grandmother, aunt, and consummate volunteer, died on May 11, 2017 of natural causes.
Her life included more than seven decades of volunteer work. For 55 years, until she was 92, she volunteered with AFS (formerly the American Field Service) to manage its program for the entire state of Virginia. Working with other devoted volunteers, she oversaw placement in Virginia households of thousands of foreign students (often as many as 40-50 in a given year) who attended a year of high school in America. She also selected American students to go abroad and matched them with host families overseas.
A high point of her volunteer work was being selected as the winner of the Galatti Award for Outstanding Volunteer Service, the most prestigious commendation an AFS volunteer can receive. This award honors AFS volunteers "whose commitment and dedication have demonstrated the spirit of grassroots community action and advanced the mission of AFS, a worldwide organization that has been leading international high school student exchange for almost 60 years."
Upon learning that she was the recipient of the Galatti award, Mrs. Thomas said, "This award has special significance because I had the pleasure of working with Stephen Galatti in the early days of AFS." (Galatti was the founder of AFS who built and transformed AFS from a volunteer ambulance service that served during both World Wars into a global network of partner organizations that today provide intercultural experiences to thousands of students yearly in the name of peace.)

As a result of her work with AFS, she has left a lasting legacy of love between the U.S. and other countries. She is beloved by former AFS students across many age groups, worldwide, and until the end of her life she maintained regular contact via email with many of them. Upon learning of her ill health in February 2017, two of them journeyed from France and Belgium to spend a week with her.
She tirelessly, lovingly, and enthusiastically supported and cultivated her children's interests, from sports to history, opera, reading, sewing, and scuba diving. She was managing director and costume designer of one daughter's dance school for several years; was president of the Langley High School VA PTSA for several years and was awarded a lifetime membership; was a Brownie leader, Girl Scout troop leader, camp director for several summers, trainer, and member of local and international Girl Scout committees for the Girl Scouts of the National Capitol Area; was President of the Great Falls Women's Club; and was active in the American Red Cross and the Great Falls Grange.
Mrs. Thomas was born Jerene Elizabeth Snuffer on April 5, 1921 in Amity, Mo. and spent her early years in St. Joseph, Mo. After meeting her future husband in 1939 at what is now Missouri Western State University, she married him in 1942. After his service overseas in WWII in what is now the U.S. Air Force, they lived in Chicago where she received a BA in psychology from Roosevelt University. They moved to Arlington, Va. in 1955 and she lived in the Washington, D.C. area from then until her death.

She is survived by: five children (Sherry Kapfer Watkins; Theresa D'Alessandro; Ann Russell/partner Mansour Peyghaleh; Bruce Thomas; and Julie Canavan/husband Bill); 14 grandchildren (Craig Kapfer/wife Rebekah; Tommy D'Alessandro; Kelly Mozingo/husband Spencer; Becky Ponder/husband Taylor; Clay Thomas/wife Erin; Alisha Thomas; Miguel Zambrano; Nicole Wood/husband Levi; Sister Christine Marie, Stephanie Rose Canavan, Andrew Thomas Canavan, Megan Sarah Canavan; and Razi and Ramin Peyghaleh); six great-grandchildren (Rylynn, Macie, Loretta, and Charleigh Mozingo ; Alana Thomas; and James Wood); foreign exchange AFS "daughters," Martine Guillain and Capcuine Bone (France), Birgitta Jansson-Koponen (Finland), Kathy de Giorgi (Belgium) and Josine Vermeer (The Netherlands), among the hundreds whose lives she touched through AFS and her sister-in-law Helen Snuffer and numerous nieces, nephews, and others.
She was predeceased in 2000 by her beloved husband Clayton James Thomas and in 2016 by her cherished brother, Warren Douglas Snuffer.
Family and friends may visit at Murphy's Funeral Home, 1102 W. Broad St., Falls Church on Thursday, May 25 from 2-4 and 6-8 p.m. A memorial service will be held at Christ the King Lutheran Church, 10550 Georgetown Pike, Great Falls, on May 27 at 11:30 a.m. In lieu of flowers, contributions in her name can be made to AFS-Virginia, c/o Mary Ann Kral, 11568 Lake Newport Rd., Reston VA 20194; the MWSU Foundation (for Jerene E. Thomas Memorial Scholarship Fund), c/o Missouri Western State University, 4525 Downs Drive, St. Joseph MO 64507; or Loudoun County Special Olympics, 20145 Ashbrook Place #78, Ashburn VA 20147. Interment will be at Arlington National Cemetery at a date to be announced.