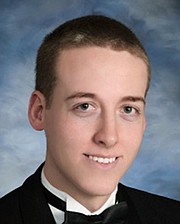 Charles "Chuck" Winston Knight, 22, died by suicide on May 1, 2017. He was born June 21, 1994 in La Jolla, Calif. Charles was living in La Mesa, Calif. at the time of his death. He grew up in Smithfield, Va. Sanford, Fla. and Burke. He graduated from Lake Braddock Secondary School. Charles loved music, writing lyrics, singing and playing his guitar.
Survivors include his mother, Laura Knight of Burke, his brother Andrew Knight and sister Kerri Knight of Fairfax; his grandmother Patty Graham, his Uncle Glen Graham, his Aunt Kim Magby and husband Mike, his Great Uncles Joel Adams and Jammie Adams, his cousin Garrett Small and his wife Ruby and children Braelynn, Rylee, and Ezekiel, his cousin Joshua Graham, wife Heather and children Travis, Denise, and Savannah, his cousin Kelli Wright of Ridgecrest, Calif.; his Great Uncle and Aunt Larry and Oleta Adams and his cousin Scott Adams of California City; his Great Uncle and Aunt Bill and Susan Ray and cousins Kristin and Jordan Ray of Tehachapi, Calif.; his cousins Shaun Adams, Ryann and Justin Burke of Rancho Santa Margarita, Calif.; his cousins Mark Adams, Annabelle and Zavier of Fresno, Calif.; his cousin Thomas Small and wife Rachel of Tucson, Ariz.; his Grandmother Gwenn Knight of Washington, his Aunt Lisa Knight of Sultan, Wash.; his Aunt and Uncle Karen and Steve Allison of Mukilteo, Wash.
He was preceded in death by his father Matthew Knight.
The Celebration of Life of Charles Winston Knight will be held on June 2, 2017, 5-9 p.m. at the Laurel Hill Golf Club, 8701 Laurel Crest Drive, Lorton.
In lieu of flowers, the family requests that donations be made in the name of Charles "Chuck" Knight to the American Foundation for Suicide Prevention https://afsp.org/ 1-888-333-AFSP
DONATIONS: https://afsp.org/take-action/give-a-gift
For donation, next of kin: Laura Knight, 7117 Stanchion Lane, Burke VA 22015.