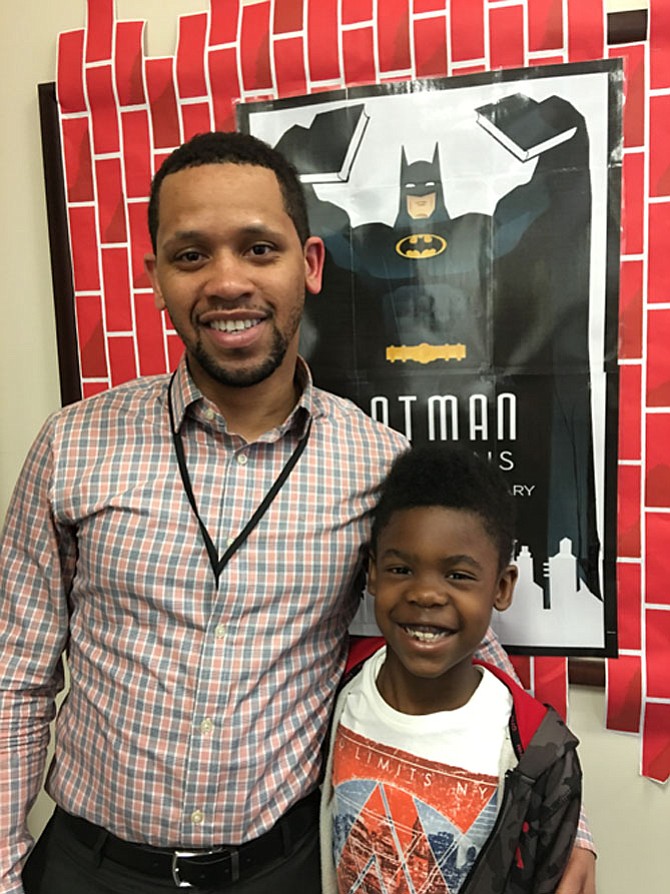 When I met Jaylen, he was 7 years old. We have been working together for over a year now as we started in February 2016. I have seen many changes in him and it has been a pleasure to work with him. Jaylen's reading has gotten better in regards to pronunciation and comprehension. His overall confidence has improved and he is more excited to read now then he was in beginning. I have also been able to connect with Jaylen's family, which has also been a pleasure. We celebrated his birthday party together this past September.
In the beginning, Jaylen was somewhat shy. What I noticed in the beginning was his lack of confidence in reading and spelling. Needless to say, he's improved on all matters. The books that we mostly read are books that were provided to me through Wright to Read. We enjoy these books, because we get to work on our vocabulary and the stories are informative, many of them involving history. We like to discuss key points in the stories and we also answer questions related to the stories. Jaylen especially likes super hero books. One of his favorite books is a Batman book.
Aside from meeting at the library, we go to the movies, McDonald's, Chuck E Cheese, or go grocery shopping together. Recently, we visited the Mount Vernon Trail to skip rocks in the Potomac. We also participate in the Wright to Read activities. Jaylen especially enjoyed the board games afternoon where he wanted to show everyone his skills at UNO. As for myself, I enjoyed the Scavenger Hunt event in Old Town, as well as the Planetarium event at T.C. Williams High School.
It is a joy to interact with Jaylen and the other kids during the events held by Wright to Read. I want to thank Luisa and the Wright to Read family for this great opportunity. It has been one of the greatest experiences of my life.
From student, Jaylen:
My volunteer, Mr. Quameer, and I have been working together for over a year. We read Batman and Star Wars books and also read short stories from a workbook. We read any fun and interesting books. Mr. Quameer has helped me with my reading and also with my math. We worked on the times table. He tells me to face my fears, be respectful, be appreciative and to listen to adults. He teaches me to be a gentleman and always to respond with yes and no.
I enjoy when we do fun things together. Recently, we went to McDonald's and then we went on a trail. Mr. Quameer told me it's the trail he runs. After that we saw a pond and he showed me how to skip rocks on the water. We tried to see who could go the farthest. I also enjoyed when we went to the movies and saw the newest Star Wars movie and going to Chuck E. Cheese. I enjoy my experience with Wright to Read, because they do fun field trips. We went to a planetarium where I learned about stars and enjoyed when we played board games. It was fun when I got to beat the adults at games. Mr. Quameer deserves to be the Mentor of the Month, because he has helped me learn to read and for all the fun experiences we do together.
Wright to Read is a member of the Alexandria Mentoring Partnership (AMP). AMP was created in 2006 to ensure that quality mentors and mentor programs are available for Alexandria's youth and young adults in need. To learn more about Wright to Read, visit www.wrighttoread.org or to learn more about AMP, visit www.alexandriava.gov/Mentoring.