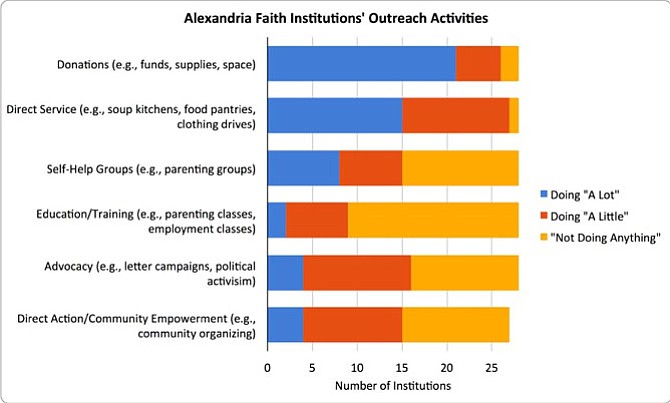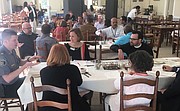 Public and religious leaders in Alexandria met May 3 for a third Police-Clergy Breakfast to deepen collaborative relationships and services to the city.
The initiative began "about a year and a half ago … after all that was happening across the country in terms of intensified race relations and some of the incidents in various cities like Ferguson, Baltimore," said the the Rev. David Gortner of Virginia Theological Seminary.
Gortner, together with Deputy Police Chief Shahram Fard, organizes the meetings. "There was deep concern for, how can we secure the common good a little bit more strongly? And one of the many ways that we thought about … was, can we secure a stronger relationship between clergy and the police of the city? So that there's … watching out for each other, but also … being accountable to each other."
This particular initiative centers on policing, though Gortner wants to enhance the faith community's cohesion and posture toward the wider community in general. Toward that end, he is cataloging local faith institutions' human service ministries and connections with outside groups. Data collected so far (see chart) indicates that most faith institutions in Alexandria make donations and provide "direct service." Fewer engage in "advocacy" and "direct action" — activities which try "to address some of the 'upstream' issues," said Gortner.
He asked participants at the breakfast to share perspectives and brainstorm new connections, using his catalogue as a primer. He asked them to discuss both challenges and strengths they see in the wider community, as well as what their respective organizations are doing to "touch … public life."
A variety of clergy participated, although many Episcopal and all Catholic clergy were absent due in part to conflicting diocesan commitments. In general, "lower representation of [Roman Catholic] congregations and of some other traditions is not for lack of effort. All were directly invited, where we had contact information," said Gortner. Other participants included Police Chief Michael Brown and other senior officers; Sheriff Dana Lawhorne; Mayor Allison Silberberg; and the executive directors of ALIVE and Casa Chirilagua, local nonprofits.
Participants raised numerous topics, including immigration and housing.
"With the immigrant communities, one of the things that has bubbled up for folks in those communities is a level of fear that they hadn't experienced before," said Gortner.

Fard noted both an increase in Immigration and Customs Enforcement "presence" and fewer calls to the police from immigrant-concentrated communities. Others also indicated widespread confusion about how ICE fits into the city's law enforcement landscape. "There is some misconception out there that we're going to go out there and enforce immigration laws," said Fard.
While Alexandria "is not a 'sanctuary jurisdiction,'" it will not go "beyond what is required by state and federal law," according to the city's web site. The city "will neither make inquiries about nor report on the citizenship of those who seek the protection of its laws or the use of its services," including public school enrollment. "Alexandria police officers do not request immigration status … when making stops or interacting with community members." And "Alexandria does not participate in ICE raids or arrests."
Still, changing the "mood" of fear in the city is the "the toughest task right now," said Lawhorne.
Clergy themselves are on edge. One participant noted uncertainty about legal protection and obligations with respect to pastoral confidentiality.
"Probably the place we're not being able to touch the most … [is] the West End," said Fard.
Tim Vandewalle, a concerned citizen, suggested the police could tap neighborhood congregations in order to improve their relationships with segments of disproportionately low-income renters. Dawnielle Miller of Casa Chirilagua added: "There may not be a lot of institutional churches [on the West End], but there are a lot of 'house churches,' so I think it's a matter of identifying where those places are … particularly among the Hispanic community."
Brown agreed, saying, "My mission for [the police] in this program … is that we find all the home churches and places of worship that we don't normally find … and we use that as a means of communicating with the residents of the city, and also as a listening vehicle for us."
Police Lt. Ed Milner suggested that police might also make inroads with immigrant communities by arranging visits to non-English religious services, which many congregations host.
PARTICIPANTS ALSO discussed housing-related challenges, especially where mixed-income housing is steadily replacing public housing, causing lower-income people to move.
Silberberg said this shift is somewhat intentional, because mixed-income housing is "safer … gives people a sense of transition … [and] demonstrates our commitment in the city to diversity and to having a balance."

Mixed-income redevelopment increases diversity at a specific site. But a February report from the city indicates "decreasing racial and ethnic diversity in the Braddock Road, Old Town, and Arlandria neighborhoods" overall.
Gortner said faith institutions could help the community break down barriers and cope with transition. Regarding Fairlington Presbyterian Church's plan to build affordable housing on its West End property: "Already there's some foment in the neighborhoods about … density and impact on the schools." While "some of those are important concerns to raise," others "are concerns that often come up with … [a] 'Not in My Back Yard' [outlook] … So how do we help bridge those conversations and dive into, what are the deeper concerns at stake for people?" For public housing residents, "Even just having to move out while an area is being redeveloped, there's a sense of being unsettled. … How do we help our churches provide a way of connecting with people around that time of unsettledness?"
"It is so very easy for any of us to kind of get … focused in our own kind of 'pod' and 'universe,'" said Gortner in closing. "And so finding ways to commit time out to connection is part of the work that really is ahead for all of us as community builders."
Any groups wishing to participate should contact Gortner at 703-461-1758 or dgortner@vts.edu.