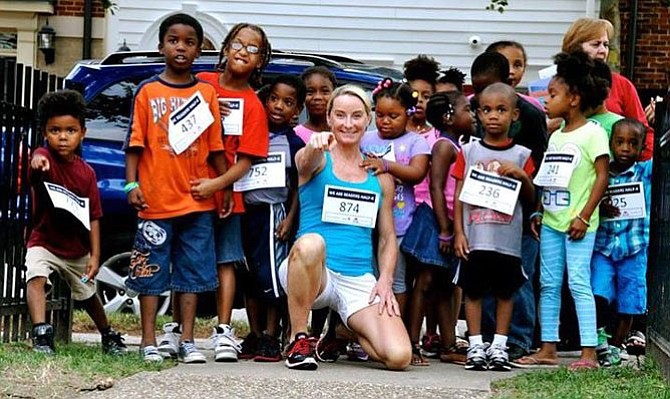 I started running when I was a mom of three young children. At first it was a way to find time for myself and to have something just for me. I didn't know at the time that I would eventually run more than 100 marathons, or that it would encourage me to launch a nonprofit that now helps 10,000 underserved kids in Alexandria.
Running gave me focus, self-confidence and a sense of purpose and well-being that I hadn't had before. It encouraged me to look into how I could use running to give back to our community. In doing so, I learned that research shows that running was not only having a positive effect on my physical health, it was also boosting my emotional health and changing my brain.
According to the book "Spark: The Revolutionary New Science of Exercise and the Brain" by John Ratey, "physical activity sparks biological changes that encourage brain cells to bind to one another. For the brain to learn, these connections must be made." And "Exercise provides an unparalleled stimulus, creating an environment in which the brain is ready, willing and able to learn."
Not only was this true for me, but it also translates into real results when we look at students and exercise. As reported in "Spark," when an exercise program was added to a junior high school in Titusville, Pa., the standardized test scores rose "from below the state average to 17 points above it in reading and 18 points above it in math." The teachers also noted the psychosocial effects, with "not a single fist fight among the 550 junior high kids" since the program started.
Those results are powerful. I want all of Alexandria's kids to have the same experience: greater focus in class, a sense of purpose, increased self-confidence and to use exercise to activate their brains to do better in school.
In 2009, I founded RunningBrooke. We have helped more than 10,000 underserved kids gain access to physical activity through playgrounds, programs and grants. Kids across the city are moving more, reporting improved emotional health and doing better in school. We have accomplished a lot and we have a lot more left to do.
On June 7, RunningBrooke will hold its second Move2Learn Summit. Charlene Burgeson, executive director of Let's Move, Michelle Obama's initiative to fight childhood obesity, will look at how small changes within schools and grassroots organizations can make a real difference in child outcomes. Joined by experts from Alexandria City Public Schools and local government, and youth fitness specialist Preston Blackburn, the Summit will explore the simple steps that you can take to get kids moving and spark learning.
I am honored to host this accomplished panel of nationally recognized experts. We encourage everyone to learn more and to join us on June 7. Registration can be found at www.runningbrooke.org.