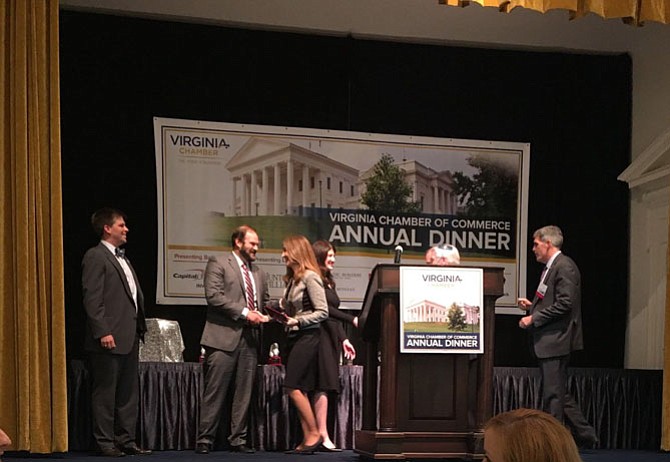 Burke — On May 11, The Virginia Chamber of Commerce awarded Del. Eileen Filler-Corn (D-41), the Excellence in Education & Workforce Development Award for her efforts to improve workforce development. Filler-Corn was one of three Democratic members of the House of Delegates to be honored by the largest pro-business advocacy organization, Thursday night in Richmond at the Chamber's 93rd Annual Dinner and 2017 Legislative Awards Reception.
"Del. Eileen Filler-Corn sponsored bipartisan legislation that will help address Virginia's most critical workforce-readiness needs," said Barry DuVal, president and CEO of the Virginia Chamber of Commerce. "We are pleased to recognize her with the Excellence in Education and Workforce Development Award for her leadership in improving career and technical education in Virginia high schools."
Filler-Corn has both introduced or co-patroned key bipartisan legislation focused on improving workforce development for many years and this year was no different. She introduced bipartisan legislation this session (backed by the Chamber of Commerce) that would have changed the way the Commonwealth looks at accreditation by including industry career technical education credits. She also introduced a resolution that would have studied experiential learning and workforce development opportunities for high school students in high-demand fields.
"I am grateful to Virginia Chamber of Commerce for honoring me with the Excellence in Education and Workforce Development Award," said Filler-Corn. "Education and workforce development are always key priorities for me. I was proud to introduce legislation this year that focuses on workforce development, specifically preparing our high school students for the workforce. This is an area I care deeply about as I also serve as Chair of Jobs for Virginia Graduates, a statewide program which helps Virginia's at-risk students graduate high school and transition from school to work," she added.
Filler-Corn hopes to continue to work on legislation that fully prepares Virginia students for the workforce in the coming 2018 session.