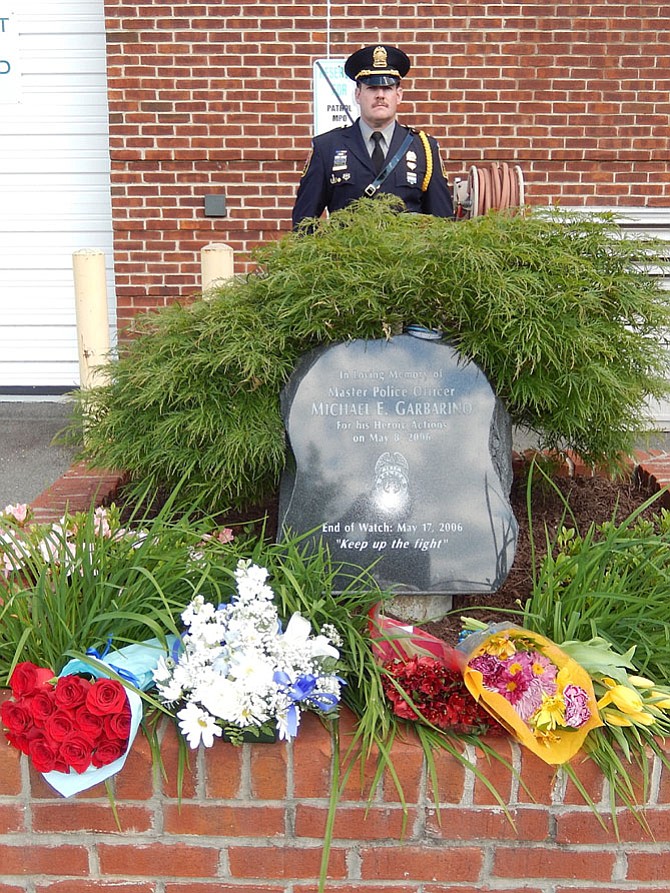 Eleven years have passed since May 8, 2006 — when MPO Mike Garbarino and Det. Vicky Armel were fatally shot in the back parking lot of the Sully District Police Station. But for those who knew them, loved them or worked with them, the memories of these brave officers will be forever etched in their hearts.
Both Armel and Garbarino left spouses, two children each, devastated colleagues and a grieving community. And each May 8 since then, a special remembrance ceremony is held for them at the station. This year's event was particularly poignant, since it was held at the scene of the tragedy.
"There are only a few, pivotal dates in history that survive in the collective consciousness of a people," said Lt. Alan Hanson, the assistant station commander. "Some revolve around world events, others revolve around national or local events. These dates are of such profound impact that, by merely reciting the date, you trigger in the listener memories of where they were and what they were doing when the event occurred."
"May 8, 2006 is such a date for Fairfax County, particularly for the Fairfax County Police Department and the families we honor here today," continued Hanson. "This date holds that place in time — not because of the nature of the attack — but because of the actions taken by all those that responded, and especially because of the actions of our fallen officers."
This year, May 8 fell on a Monday — just as it did 11 years ago. Around 3:40 p.m. that afternoon, 18-year-old Michael Kennedy carjacked a van. Responding to the call, Armel went outside to the police station's rear lot. But as she reached her cruiser, Kennedy — armed with five handguns, an assault weapon and a high-powered rifle — drove into that lot.
There, an unarmed Garbarino was tending to things inside his cruiser before leaving on vacation. Standing just a few yards away, Kennedy ambushed him, firing more than 20 rounds at the officer with an AK-47-type rifle.
When the shooting began, Armel made her presence known to Kennedy to draw fire away from Garbarino. She and Kennedy exchanged gunfire, and a bullet from his 30-06 rifle pierced her ballistic vest and struck her in the chest.
She made it back inside her cruiser, but was shot again in the legs. And even though mortally wounded, she still fired four more rounds, trying to stop the assailant. Armel was later pronounced dead at Inova Fairfax Hospital.
Garbarino also displayed bravery under fire that day. Although he'd been shot five times and was gravely wounded and in pain, the 23-year police veteran used his cruiser's radio to alert other officers to the danger. He provided suspect information, told the police helicopter where to land and warned other officers to approach from the front of the building so they wouldn't walk straight into harm's way.
He also prayed to God and told his fellow officers, "I'm not going to die here." True to his word, Garbarino held on in the hospital for nine more days, but succumbed to his injuries May 17, 2006. As for Kennedy, he was killed the day of the offense in a shootout with other responding officers; police said he'd fired more than 70 rounds.
Both Armel and Garbarino left spouses, two children each, devastated colleagues and a grieving community. A year later, the Fairfax County Police Department awarded the officers Gold Medals of Valor, posthumously.
Attendees at last Monday's remembrance ceremony in their honor included Deputy County Executive Dave Rohrer, county Police Chief Ed Roessler, family members of Armel and Garbarino and former and current Sully District Supervisors, Michael Frey and Kathy Smith, respectively.
"We come here today to pay respect to Vicky and Gabby [Garbarino's nickname]," said Hanson. "We're here to celebrate their lives and the lasting impact they had on all they encountered in both their personal and professional lives, and to reflect on the valor and sacrifice displayed on that day. We come here to honor their memory and to honor their families."
Trying to describe what May 8, 2006 and its aftermath meant to all involved, Hanson said certain words resonated with him: Duty, valor, sacrifice, resolve, love, family, honor, commitment and legacy.
"They represent ideals and emotions displayed by Vicky and Gabby, their families, members of the Department and the community as a whole," said Hanson. "These words cannot do justice to the range of emotions felt in our heart; but when reflected upon, perhaps provide at least a small measure of what was experienced on that day and continues today."
Calling Armel and Garbarino part of the "culture, spirit and legacy" of the Police Department, Hanson said the Sully District Station officers acknowledge the pair with photos inside the building, plus memorials outside at their parking spaces. But even more, he explained, "We honor them with the stories we tell about them. The officers and staff earnestly share their story with those who visit our station so they can know and understand what happened here and who Vicky and Gabby were. This is just a small part of their legacy that endures within our department."
Giving the invocation, former homicide detective and now police chaplain Shawn Perkins thanked all the police officers for carrying out their duties "not just as a job, but as a responsibility from God." But, he added, "Carry your authority gingerly, humbly and carefully." Perkins then prayed to God, "To honor Vicky and Gabby for their sacrifice, we ask you to give us courage and wisdom so our lives and service will honor them."
Next came a moment of silence, followed by a helicopter flyover and the fallen officers' families placing bouquets of flowers at each memorial. Doing so were Garbarino's widow, Sue; and daughter Katie; plus Armel's mother, Betty Owen; sister and brother-in-law, Sandy and Adrian Munday; and niece Taylor Munday.
"The family is very appreciative of the Police Department and the efforts they've made every year to recognize Vicky and Gabby's heroism and service," said Adrian Munday. "They've also done a fantastic job of taking care of the families."
"When I come here [to this station], I feel like I'm home," said Owen. "Everybody is so friendly."
"They always say, 'Gone, but not forgotten,'" added Sandy Munday. "And they really are here for us, all year 'round. Even on their days off, officers on the department's Peer Support Team take us to Police Week events. And at Christmas, they send us wreaths for our door because Vicky loved Christmas. They make you feel like you're part of the family."
Agreeing, Sue Garbarino said last week's ceremony was important because "It's all about remembering Mike and Vicky and knowing that their actions will always be honored. And it means a lot to my girls, Katie and Natalie, that the department does so much to remember its fallen officers."
The event was also meaningful to Rohrer, who was the county's police chief on that day, 11 years ago. "I'll always remember Vicky and Mike for what they did, and how well the officers at this station responded to the tragedy," he said. "And I'll always remember — 'til the day I pass — how well the community supported us with the candlelight vigils and how much respect they had for the Police Department and the families. They just embraced us."
"When I came to the first candlelight vigil, the officers were huddled inside the station," said Rohrer. "But they eventually came outside and were literally embraced by the crowd. And it meant so much to see how much the community cared for them."