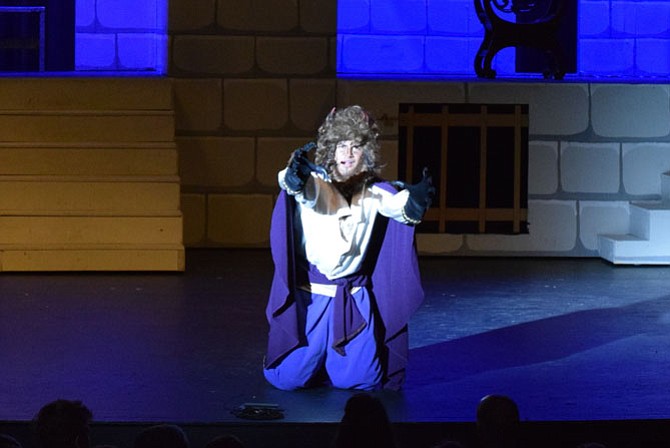 Based on the 1991 Disney animated film of the same title, "Beauty and the Beast" portrays the story of Belle (Margarita Gamarnik), an odd book girl who gets captured by the Beast (Mandip Bhadra) who needs to love her and needs her to reciprocate to return his human form. The Beast's servants are turning into various objects of the castle. Meanwhile Gaston (Teddy Huffer) has been attempting, yet miserably failing, to marry Belle.
Margarita Gamarnik portrayed the sweet innocence of Belle. She really seemed to fall in love with the Beast. During her performance of "Is This Home?", her voice rang through the audience with such command and control showcasing her obvious talent.
Mandip Bhadra had a very strong, intimidating roar to portray the anger and hot-headedness of his character. He also showed the quick transition during the second half and showed his inner good and sweet hearted characteristics while also being a little teenage-boy-esque awkward around his crush. His performance of "If I can't love her" was heart-wrenching and beautiful.
Gaston, played by Teddy Huffer, did a good job portraying the buff, manly, and idiotic Gaston. He sang well during the performance of "Gaston," singing about how great he is was quite believable.
Mely Megahed as Mrs. Potts stole the show with her beautiful voice. Her standout performance of "Beauty and the Beast" was memorable and amazing and she had amazing stage presence. She worked really well with Oliver Harmon, who played Chip. They had a beautiful reunion at the end that brought some audience members to tears.
South Lakes High School's production of "Beauty and the Beast" took a tale as old as time and transformed it into something new and beautiful.