Herndon — Herndon's Classical Ballet Theatre performed Swan Lake on Saturday and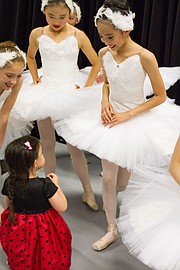 Sunday, May 6-7, for young audiences at its studio on Victory Drive. Approximately 20 dancers, aged 11 to 18, performed six sold out shows.
"Swan Lake is one of the most well-known classics and it's a very challenging ballet," said Kathy Beyer, who teaches at the studio. "Technically, it's some of the hardest corps de ballet work that dancers can take on and we wanted our dancers to experience that as well as get to know this ballet."
The weekend performances highlighted one portion of the ballet's second act, which features Odette, the white swan princess. Herndon High School Freshman Claire de la Paz danced this lead role.
Love was in the air.
"Prince Siegfried gets a crossbow for his birthday and goes to hunt swans, but then he runs into Odette and it's love at first sight," de la Paz said.
THE UNUSUAL USE of the arms and upper-body movement to imitate swan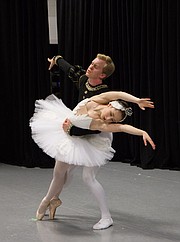 movements that the 19th century Russian ballet dancer Lev Ivanov choreographed into the second act is Beyer's favorite element of the ballet.
"It's unique in all of the ballet repertoire," Beyer said. "It's brilliant choreography that's been handed down decade over decade, and I think the history of the choreography and how consistent it has stayed over the years is fascinating."
It was challenging for the lead ballerina.
"You're a swan, so you have to have mannerisms that are swanlike," de la Paz said. "That's really different from any other ballet because you're trying to portray an animal. What's really challenging is the port de bras [carriage of the arms] and trying to do swan arms."
But she enjoyed the task at hand.
"It's really different from what I usually do and it's nice to step out of my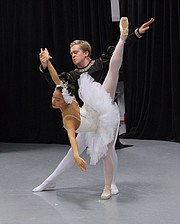 comfort zone and try new things," she said.
Dancing a pas de deux — a duet — with Philip Smith-Cobbs was de la Paz's favorite part of her performance. Smith-Cobbs, a professional dancer and alumnus of the studio, returned specially to dance the role of Odette's lover, Prince Siegfried.
"It's really fun to dance with somebody else," she said. "I only started partnering about a year ago, so it's kind of new for me."
Training for and performing the show was special for de la Paz and her teacher.
"It feels beautiful doing it and it's beautiful to watch," Beyer said.
When Beyer was 16 years old, she was coached to play the role of Odette in Swan Lake by Canadian ballerina Anna-Marie Holmes at the Kirov Ballet in Washington, D.C.
"It's a very fond memory for me," she said. "The emotion of the role, as well as the beauty of the movement, it's just one of my favorites."
PASSING ON THE EXPERIENCE to de la Paz and her other students in her adulthood was a gratifying experience for her.
"First of all, you help the young girls go through the technical challenge and then discover their own emotions and emotional response to the movement and the story," she said. "Just to pass on the technical wisdom as well as guide them through their own emotional journey … I've enjoyed it immensely."
Beyer's insight into the portrayal of the characters made it more interesting
for the dancers.
"It wasn't just doing the steps because she gave us a story behind what we were doing," de la Paz said.
The ballet was part of the studio's Children's Series, which are shorter programs designed and performed specifically for younger audiences.
"It's our introduction in say a 45-minute performance that can introduce younger audiences to ballet and ballet classics where they can stay focused, concentrated and interested," Beyer said.