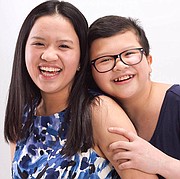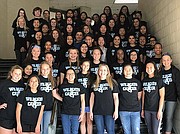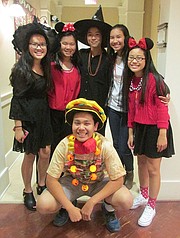 In October 2015, Centreville High sophomore Valerie Nguyen founded the Wildcats vs. Cancer club. Since her younger sister was battling cancer, she wanted to help families going through the same things hers was.
So throughout that school year, the 42-member club raised money and held various activities to ease their burdens. "When one person in a family has cancer, the whole family goes through it together," said Nguyen.
Trouble is, cancer doesn't play fair. And on Oct. 11, 2016, Nguyen's sister Cecilia died at age 13. "It's still difficult — that never goes away," said Nguyen, now a junior. "But I find ways of dealing with her death and carrying on her legacy by raising money for childhood-cancer research."
She's currently doing so via an upcoming event hosted by her club, now 110 members strong. The Festival to Fight Cancer is set for Saturday, June 10, from 8-11 a.m. on the Centreville High football field. Slated are a 2-mile fun run or a 1-mile, family fun run/walk, plus food vendors, games, activity tents and a superhero costume contest with prizes.
All proceeds from this event will go to Special Love, dedicated to helping pediatric-cancer families. This nonprofit provides support for them through camps for siblings, parents, cancer patients and the whole family to maintain as much normalcy as possible. It also offers programs and financial aid.
Throughout her sister's journey, Nguyen attended Special Love's BRASS (Brothers and Sisters) camp for siblings, and it gave her the support she needed to cope. She was a counselor-in-training there, working with other siblings like her, and she realized that they all faced the same struggles daily.
In addition, she said, "Special Love has really helped my family by providing community support and a network of other families who've been through this and get it." And this summer, she'll be a counselor at the camp. First, though, comes the festival at her school.
There'll be carnival-type games, face painting and a raffle for gift cards and prizes donated by local merchants. And the top finishers in both the 2-mile and 1-mile runs will also receive gift cards and prizes.
"People can run in costume, if they want, because we're also having a superhero costume contest," said Nguyen. "Prizes in various categories will be given for the best costume and for the ones best carrying out the theme."
Entry to the festival is free, but donations are encouraged. Registration for run/walk participants is $15 for people on a team and $20 for individuals. It includes a commemorative T-shirt, water bottle, the festival activities, plus a free breakfast (bagels, fruit, granola bars, etc.) after the race. Register at https://goo.gl/AMQcXI. Online registration is encouraged because the registration costs go up $5 on festival day.
This event also culminates the Wildcats vs. Cancer club's activities for this school year. In December, the members got Hasbro to donate more than 100 toys for the DC Candlelighters' holiday party. And in February, the students made valentines for young cancer patients in Fairfax Hospital and for Pediatric Specialists of Virginia, which treats many of those children.
During football season, they invited children with cancer, and their families, to be their guests at a Centreville Wildcats football game. "The football team and cheerleaders interacted with them," said Nguyen. "And they even got to try out some of the band's percussion instruments."
In March, the club teamed up with the nonprofit Kraftlove to make art/craft kits to donate to pediatric cancer patients in local hospitals. Kraftlove provided the supplies and the students assembled them into some 600 kits. Then the children receiving them were able to decorate a picture frame with paint and stickers.
"It makes me feel joyful because I know my sister's spirit lives on in me," said Nguyen. "And it's wonderful that the kids in my club take time out of their busy lives to give back and become not only volunteers, but advocates, for something so personal to me."
Cecilia was an eighth-grader in the Advanced Academics program at Rocky Run Middle School. "She was very bright, caring and curious and loved learning," said Nguyen. "She also loved arts and crafts and spending time with our family and dog. She had osteosarcoma [bone cancer] and aspired to be a pediatric oncologist to save kids like her."
So it's no wonder Nguyen is hoping for a big turnout for the festival to raise as much money as possible for children like her sister because "every penny counts. And instead of just donating money to a charity, people will get more bang for their buck because they'll be spending quality time with their families and making lasting memories. And all the proceeds will be going to a good cause. So I want people to spread the word about the festival and tell all their friends."
The event also has sponsors; the main ones are CYA; NEU, Strat & PM; Union Mill Pediatrics and Northern Virginia Center for Oral, Facial & Implant Surgery. And Nguyen is grateful for them.
"No one chooses to be a victim of childhood cancer," she said. ""I believe that no one should ever have to fight cancer alone and that, as able-bodied people, it's our responsibility to stand up and fight for those who can't."
For more information about the club, go to http://wildcatsvscancer.wixsite.com/wildcatsvscancer.