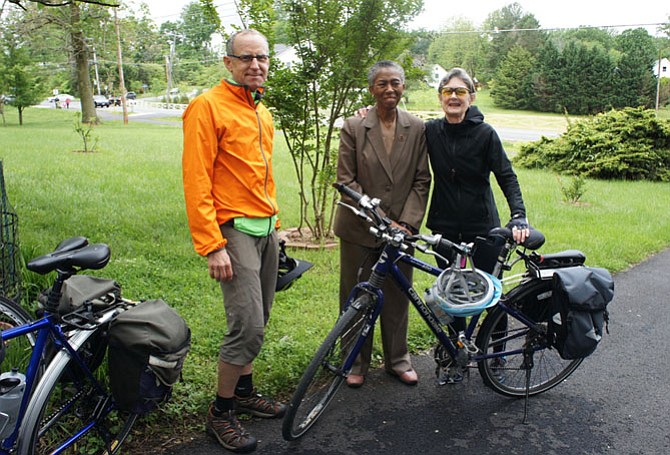 Vienna — The idea came to area resident Jenifer Joy Madden many years ago. She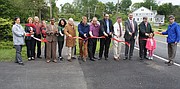 was attempting to walk along Beulah Road in unincorporated Vienna with her young son from their nearby home to the Meadowlark Botanical Gardens — a journey that should have been a fairly easy stretch of the legs. Instead, they dodged speeding vehicles coming around roadway twists and turns, hugging the ditch line for safety. "We even came across the remnants of a serious car accident from the night before, with medical paraphernalia and bits of car parts still there that had to be negotiated."
Fast forward a bit. Madden saw a poster from then recently-elected Fairfax County Board of Supervisors member Cathy Hudgins (D-Hunter Mill), saying "I want to meet the community and hear from you." Madden took the new supervisor up on the offer and asked for pedestrian roadway improvements along Beulah Road so that walkers and bikers could more easily access the parks and trails that form "a beautiful necklace of green space" around the area, according to Madden.
"She told me to show community interest and support and if I did so, she would get behind the effort."
Madden want to work, and Hudgins kept her promise.
IT TOOK YEARS, lots of door-knocking, the support of her Homeowners Association, a comprehensive feasibility study, an ever-growing cadre of neighbors and people who champion bike and walk activities in the area and the support of Hudgins and quite a few employees of the Fairfax County Department of Transportation (FCDOT), but at last, the connecting walkways were substantially completed in October of 2016.
Hudgins spoke at the ribbon-cutting ceremony to officially celebrate the completed project. Gathered beneath a tent on the Beulah Road property of Shahla Zahirieh, who is also a design engineer with the county, and her husband Javad Mortazavi for the occasion were a small group of local residents, trail users, FCDOT staff and representatives from the engineering and construction groups who helped to see the project come to life.
"This was a more difficult project than most people might realize," said Hudgins. Building in an area already developed poses any number of problems, the supervisor explained. The end result, however, "has us celebrating that we can all work together creatively" to achieve something so positive for the community."
Madden, now the vice chair of the Fairfax County Transportation Advisory committee, and Jeffrey Anderson, the Hunter Mill District representative, Fairfax County Trails and Sidewalks Committee, were also speakers at the event. Anderson, as well as being an avid trail user himself and a member of the Fairfax Alliance for Better Cycling, has been active with the local annual "Bike to School" campaign since 2009. "That's how I got interested and how I came to join the 'Jenifer-train' [referring to Jenifer Madden] that brought us to this point," he said. "You want to promote healthy activity for our kids, but before now, it was dangerous. Now you can safely get to so many trail access points and places for outdoor fun. We even have a neighbor who can now get around in a motorized wheelchair and enjoy the outdoors."
ATTENDEES Bruce Wright and Kerie Hitt proved the point that the improvements added a whole new level of connectivity to the community by biking to the ceremony from their hometown of Reston. "It's really great," said Wright. "A lovely ride. We can get to so many trails, even to Wolf Trap using the bridge over the Toll Road."
From Madden's first suggestion, to the endorsement of the project by the Board of Supervisors in 2007, to completion in 2016, to ribbon-cutting in 2017, the Beulah Road Walkway may have been a long time coming, but for many, it was worth the wait.