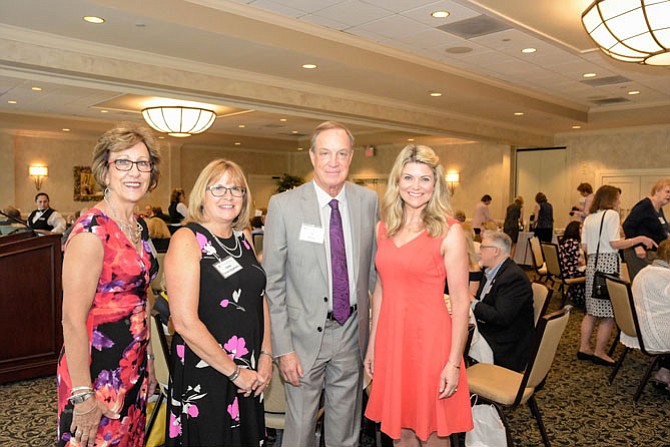 More than 100 people gathered to mingle, dine and raise money for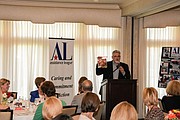 Assistance League of Northern Virginia's Operation School Bell programs. Every bid placed at the nonprofit's Annual Spring Fundraiser, a luncheon and silent auction, benefited children living in poverty in Northern Virginia. The all-volunteer organization strengthens communities by feeding, clothing and educating at-risk children in 11 Title I schools in the region.
This event raises funds to sustain and expand the nonprofit's 2017-18 Weekend Food for Kids, New Clothing for Kids and Reading Express programs which touch the lives of more than 6,000 children in Fairfax and Prince William counties and the City of Alexandria each year. The fundraiser also supports the organization's Hugs Pillow program which provides comfort to very low income children undergoing medical procedures at Inova Cares Clinic, in Falls Church.
During the welcome reception, members and their guests socialized with supporters and community volunteers while bidding on auction items, including resort packages, dinners, wine tastings, golf outings, tickets to the opera and more.
Linda Shilts, Assistance League's current president, hosted the fundraising event which was sponsored by Quadrant Inc. (Reston), ShounBach (Fairfax) and Griffin-Owens Insurance Group (Herndon). Special guests included sponsors, major contributors and representatives from several recipient schools.
For the third year, the event was held at International Country Club, 13200 Lee Jackson Memorial Highway, in Fairfax, on April 28. Project Chair Linda Stephens was pleased to welcome Kimberly Suiters, 7 On Your Side Consumer Investigator and ABC 7 Weekend Evening Anchor, as the keynote speaker. Suiters praised the nonprofit for its commitment to helping those in need.
The luncheon program included a special appeal for additional funding which was delivered by Armando Peri, principal of Pine Spring Elementary School in Falls Church. He thanked the nonprofit for supporting 75 of the 377 students eligible for free or reduced-price meals at Pine Spring and shared how difficult it is for counselors to decide which students should receive the food.
Auctioneer Daniel Sanders, owner of Four Sales Ltd in Alexandria, donated his services for the sixth year to the live auction and special appeal. Images for Good, a service photography nonprofit that cultivates student and veteran leadership, provided pro bono photography support.
Assistance League of Northern Virginia is one of 120 chapters of a national organization that empowers ordinary citizens to make positive changes in their communities. To learn more, visit www.northernvirginia.assistanceleague.org.