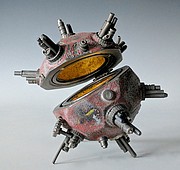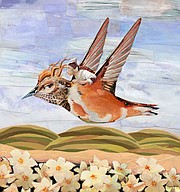 Abstract is a good description for artworks featured at this year's Northern Virginia Fine Arts Festival (NVFAF) the weekend of May 20-21, presented by Greater Reston Arts Center, at Reston Town Center. The festival is ranked in the top 20 outdoor art fairs in North America. In addition to interacting with more than 200 artists from across the nation, all ages can also make and take their own creations at the Family Art Park in the Pavilion. The festival is produced by a bona fide arts organization, Greater Reston Arts Center (GRACE). Technically admission is free, but a $5 donation to GRACE is requested. Garage parking is free every weekend at Reston Town Center.
On Friday, May 19, the Festival Party in the Pavilion from 6 p.m. until 9 p.m. is a "creative cocktail attire" celebration hosted by GRACE that includes food, wine, an opportunity to mingle with the artists, and a silent auction of getaways, culinary adventures, spa and golf packages, and more. Party tickets are $50 and can be purchased at restonarts.org.
Dance performances are going to be a highlight of the festival and a wide variety of local performers are scheduled throughout the weekend. On Saturday and Sunday, the Hyatt Park Gin Dance Company doing "Hello! Goodbye!" will start at 11 a.m., followed by the Reston Town Square Park GroundShare Arts Alliance, Hyatt Park Classical Ballet Theatre, and Reston Town Square Park Ravel Dance Co.
The dance performances presented by Reston Community Center are commissioned with choreography responding to the public art sculptures at Reston Town Center – the "Reston Rondo" sculpture by Mary Anne Mears in Hyatt Park, and "A Bird in the Hand" by Patrick Dougherty in Reston Town Square Park.