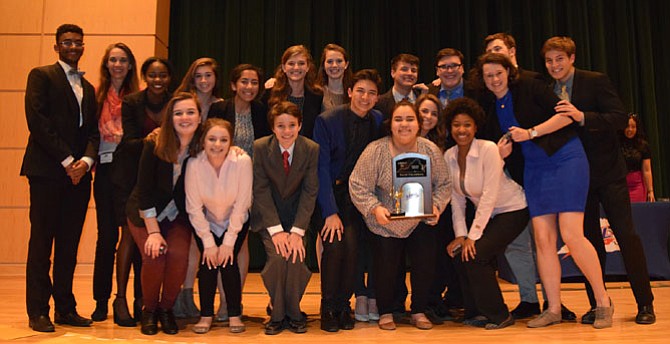 For the second year in a row, the 16-member Forensics Team at Chantilly High School took first place in the VHSL 6A State Forensics Championships on March 25 in Midlothian, Va., beating out 16 schools and 78 students from around the Commonwealth of Virginia.
Scoring a total of 40 out of 80 points as a team in the various debating categories, the following five Chantilly students and a duo took first place: Poetry - Nora Malatinszky; Storytelling - Jared Belsky; Dramatic Duo - Kylee Marciello and Aris Stovall; Dramatic Interpretation - Michael Rosegrant; and Humorous Interpretation - Maria Benincasa.
"We placed in every single category, which is ridiculously amazing," said Barbara Clougherty, the speech and debate teacher at Chantilly High School. "This is the first year in our history that every student broke and made it to the final round, which means they placed first, second or third. That was pretty amazing."
She added: "I would attribute it to the talent of the students and the esprit de corps of the team; my team works really well together. There's a lot of team support and peer critiquing…. They are extremely team focused."
A two-time state champ for poetry, Nora Malatinszky, 17, of Greenbriar earned first place in Poetry Interpretation. Her theme was "Growing Stronger After Domestic Abuse." Of her win, she said: "It was really nice, especially since I got to compete side-by-side with Naguib Zekeria, and we were first and second place the whole time, so it really was us pushing to emote and evoke emotion."
She added: "When we work together as a team and give constructive criticism, I think every individual win was a team win."
First-year team member Kylee Marciello, 17, a junior from Chantilly, took first place for Serious Duo Interpretation along with Aris Stovall. They interpreted Kathryn Stockett's book, "The Help," whose overarching theme was racism. It was made into a 2011 movie starring Emma Stone, Viola Davis and Octavia Spencer.
"We interpreted the book. When Aris and I first started, we zoned into establishing distinct character voices. We worked for hours and hours. We worked on voices; we were brutally honest with each other," she said. "So we eventually incorporated distinct character voices and we decided to incorporate as much blocking as we could."
"We don't shy away from difficult topics," added Clougherty. "Whether it's domestic abuse, racism, social justice, transgender issues or father-son relationships — I think we do dive into the complexities of those issues."
On her win, Marciello said: "Honestly, it was very eye-opening for me in the sense that speech really changed my life; it gave me a different outlook on things. Winning the states was the best day of my life; it was a very liberating experience for me. I'm definitely a changed person for it."
Another member of the team, Kate Wozniak, 17, a junior from Chantilly, won second place in Impromptu, one of the non-interpretive events. "I love getting to be spontaneous; it's really nerve-racking because I could literally give a speech on anything," she said.
She said with Impromptu, she's given three topics: either people, events or quotes, and has seven minutes to plan a speech with structure, examples, and a message. "I talk about something different every single time," she said. The topics could be social or political, or about "SNL" or the Russian interference in the election.
She added: "I honestly feel lucky to be part of a team like this … So to win with the team is icing on the cake. I've found something that I am passionate about."