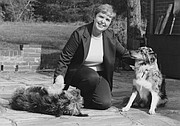 Barbara Jane Thaler of Centreville Farms died on March 22, 2017 after a short illness; she was 91. Barbara was the widow of Dr. William John Thaler, a physicist and a Georgetown University professor from 1960-1994, who, in the late 1950s, invented the first system for the detection of incoming ballistic missiles (Over-the-Horizon Radar), a milestone for the security of America in the Cold War.
Born in 1925 in Coalinga, Calif., Barbara Jane Greene was the only daughter of Charles Thomas Greene and Elizabeth Green Jarnagin née Lenhart. Barbara completed her undergraduate degree at the University of California, Berkeley and studied at Catholic University in Washington, D.C., where she earned her Master's Degree in communications and drama. She met her future husband, William, while in Graduate School there. On their first date, Bill told Barbara: "You know, I'll ask you to marry me, when I know you'll say Yes!" Barbara and Bill were married on June 16 1951; and 50 years later they celebrated their Golden Wedding Anniversary at their home with family at friends.
Barbara was a devoted wife, mother, and grandmother. She was also a teacher, who lectured in public speaking, communications and English as a second language at Northern Virginia Community College and George Mason University. Barbara was an active member of the Sully Book Club at the Centreville regional library and the Rocky Run Garden Club. Trained as an opera singer in her youth, Barbara enjoyed listening to opera and attending operatic performances. While at Berkeley, she converted to Catholicism. After moving to Centreville with her family in 1965, she joined St. John's Episcopal Church, where she was also a member of the choir. Her pastimes in retirement included enjoying opera, theater, and watching home improvement shows and Dancing with the Stars. Barbara was a collector of people, with her kind and caring disposition, she befriended people she met in her life and helped them, as she was able.
Her husband, William, preceded her in death on June 5, 2005. Her oldest son, Mark Stephen Thaler died in 1990 and her fifth son, Geoffrey Andrew Thaler, died in 2003. Survivors include four children: Paul Thaler of Rixeyville, Va,, Alice Thaler of Thurmont, Md., Gregory Thaler of Centreville, Peter Thaler of Gainesville, Va., and nine grandchildren.
Barbara is interred at St. John's Episcopal Church, 5649 Mt. Gilead Road, Centreville.