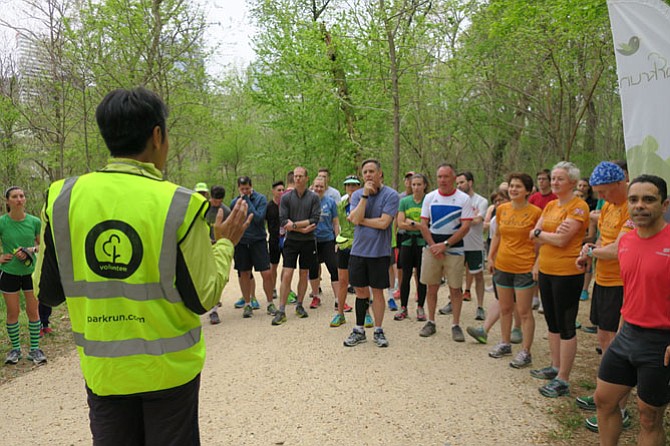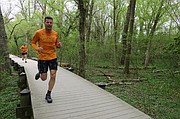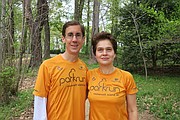 On a chilly Saturday morning in early spring, runners of all ages and abilities crossed the bridge from the Mount Vernon Trail to gather on Roosevelt Island. The race would be a 5k out and back, looping mainly along boardwalked stretches of marshy wetlands, up through the forested center of the island and briefly flashing by the granite slabs and dry canals of the Theodore Roosevelt Memorial.
After crossing the finish line, runners gathered at the trailhead to sip water, catch up with friends and pass around homemade energy bars. As they began to drift back over the bridge toward Rosslyn, many promised to see each other again in the next week or two.
That day marked the 25th Theodore Roosevelt Island parkrun. The event differs from other area timed 5ks in a few significant ways: it takes place weekly — not yearly — and is also free.
Parkrun is an international network of free weekly timed 5k events. It operates on the idea that running should be accessible and affordable rather than elitist and cost-prohibitive.
Eileen Nelson and her husband Rick are regular parkrun participants. Nelson, who is from England, first found out about it in her home country and has enjoyed being able to continue being involved with the Roosevelt Island runs.
"Parkrun stated in the U.K., but had spread all around," Nelson said. "There's about 15 of us [regular participants] who come from different countries, mostly England, Ireland and Australia. It's a friendly group, easy-going. It's not as intense as other races."
According to the parkrun website, the weekly runs first began in Teddington at Bushy Park, one of the Royal Parks of London, with just 13 runners. That was in 2004 and for many years the event stayed within England. In just over a decade, however, it has exploded into a multi-national organization sponsoring runs in more than a dozen countries.
Parkrun is rapidly expanding in the United States, with a handful of inaugural runs coming up in May and June, include ones in nearby Baltimore and Richmond.
The Roosevelt Island parkrun will be approaching its first anniversary this August. Darrell Stanaford, the event director for this event location, is also the country manager for parkrun USA.
Although Stanaford was not the first person to begin a parkrun in the United States, he has led efforts over the past several months to develop the infrastructure so that other parkrun events can be set up around the United States more easily.
"If someone wants to start a parkrun in their community, we can help," Stanaford said.
Stanaford first discovered parkrun while living in Moscow, Russia, working in commercial real estate. Stanaford ran cross country in high school and has always tried to stay active as an adult, but the somewhat forbidding weather in his new home city often kept him indoors.
"Moscow has winter five to six months out of the year. I didn't do much running outdoors at the time. I was steadily running on a treadmill indoors, just doing it for general fitness, not long distances."
Eventually, Stanaford decided that he wanted to start running outdoors whenever he could and searched for a nearby 5k to get him motivated. That's when he discovered the parkrun in Gorky Park, Moscow.
Stanaford was instantly a fan of the spirit of fun and camaraderie which he found at the Gorky Park parkrun, but circumstances would soon be taking him back to the United States.
Stanaford and his wife Svetlana left Moscow to rendezvous with their son who was studying in England. While there, they had the chance to run in the 10th anniversary run of the first parkrun location of Bushy Park along with 1,900 other parkrun enthusiasts.
"That was my wife's first 5k in her entire life," said Stanaford. "She was never a runner. Now she's a person who is addicted to running because of parkrun."
Their final transition across the Atlantic would leave them disappointed in terms of their love for parkrun.
"We arrived in D.C. in the summer of 2015 and found that there were no parkruns in the area," Stanaford said.
Despite its popularity in the U.K. and other areas abroad, parkrun has only gained a cult following in the United States. For instance, while the United States currently has less than a dozen parkrun events, there are over 50 events in the London area alone.
"Over 1.4 million different people in the United Kingdom have participated in a parkrun," Stanaford said.
Rather than sit idly by, Stanaford decided to act and contacted parkrun about setting up a D.C. location. Three other parkrun enthusiasts were simultaneously reaching out to the headquarters: Henry Wigglesworth, an American who discovered parkrun while traveling in England; Dee Coughlan, who had moved from Ireland to be a cancer research fellow at NIH; and Andres Falconer, who had moved from Brazil.
"[Parkrun founder] Paul Sinton-Hewitt had been contacted by all four of us separately," Stanaford said. "We all met in September 2015. Henry lives near Fletcher's Cove and he suggested that area. The Palisades community helped fund it. By January, 2016, we held the inaugural Fletcher's Cove parkrun, the first one in D.C. area and fifth in the United States."
In just over half a year, Darrell and Svetlana Stanaford had their inaugural run at Roosevelt Island in August 2016. Another run in College Park, Md., followed just a few months later in October 2016.
Stanaford hopes that the event locations in the United States will continue to exhibit the exponential possibility that has been demonstrated abroad. The main challenge is that every parkrun needs an event director.
"A person that wants to start a parkrun is something you can't replace," Stanaford said.
The second biggest challenge is finding a location for the run. According to Stanaford, permit requirements for park and trail use can vary widely among counties and states. Nonetheless, he encourages potential event directors to do some research and contact parkrun for support.
"Permits are the biggest challenge," Stanaford said. "They are one thing that's beyond our control. We can't influence the process, but we can provide support and advice.
Recently, the American Cancer Society (ACS) has recognized the potential of parkrun to promote healthy habits and has decided to partner with parkrun.
"After meeting [Parkrun founder] Paul and Darrell as well as some of the other parkrun enthusiasts, I knew there was something there," said Cathryn Burby, senior director of Community Engagement for the South Atlantic Division of the American Cancer Society. "It was just one of those special conversations with a few really involved and dedicated people."
Burby's role with the ACS is to help the organization connect with people and build relationships in order to reduce rates of cancer.
According to the ACS website, "[t]he latest recommendations for adults call for at least 150 minutes of moderate intensity or 75 minutes of vigorous intensity activity each week, or an equivalent combination, preferably spread throughout the week."
Burby and the ACS view parkrun as a way to encourage Americans to stay active in a setting that is accessible and fun.
"We can avoid a lot of adverse outcomes by healthy eating and an active lifestyle," Burby said. "I hope that parkrun spreads in the U.S. as it has in the U.K. and elsewhere, and that we can get millions of people participating in these 5k events."
In the meantime, Roosevelt Island participants continue to enjoy what their event location has to offer.
"Spending time outdoors helps us recharge for the week," Svetlana Stanaford said. "Being around trees and nature is so important for us psychologically and physiologically."
Participants aren't the only ones who can benefit from what parkrun has to offer. Volunteers enjoy spending a few hours each week on Roosevelt Island helping out with the events.
"Being a retiree, I love volunteering," said Peter Vandevanter, who regularly helps out with the runs. "I come to Roosevelt Island even during the week. I see the deer and the raccoons. I love being around nature."
Roosevelt Island participants also appreciate that parkrun provides them with a reliable route while abroad.
"Parkrun provides a known safety route, especially in an unfamiliar country," said Elisa Coyne, who also leads a local chapter of Moms RUN This Town. "Many people, especially women, want someone to run with in a new place."
Participants can also track their performance and progress in every parkrun, regardless of whether they are in their hometown or abroad. Upon registering for a parkrun event, participants receive a barcode which is scanned when they cross the finish line of their local event or any event across the world. Results are sent out via email with a link to view more detailed statistics on the parkrun website.
Despite the fact that all parkruns are timed 5k events, participants are encouraged to move at the pace they are most comfortable with.
"Parkrun is a friendly, low-stress environment," Stanaford said. "It's a group run, not a race. Parkrun is for walkers, joggers, and runners. Parkrun is for everyone in the community. We hope everyone will come and spend some time with us."
The Roosevelt Island parkrun meets every Saturday at 9 a.m., rain or shine, just across the bridge from the Mt. Vernon Trail. The parking lot for Roosevelt Island often fills up, but there is plentiful street and garage parking in Rosslyn, although most places do require payment on Saturday mornings. At the Island entrance are bicycle racks for those who wish to cycle to Roosevelt Island.
Founder Paul Sinton-Hewitt will be at the College Park parkrun on Sat., May 27 for a special festive event. He will also be at the inaugural Richmond parkrun event on Saturday, June 3.
For more information about parkrun, visit parkrun.com and parkrun.us. To learn more about the Roosevelt Island event, go to parkrun.us/rooseveltislanddc or find it on Facebook @rooseveltislandparkrun.