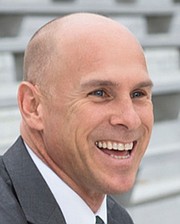 Former Washington Redskins co-captain and Super Bowl XXVI MVP runner-up Brad Edwards will be the keynote speaker May 30 at the 62nd annual Alexandria Sportsman's Club Athlete of the Year gala.
Edwards, a second round draft pick and nine-year veteran of the NFL, is currently the assistant vice president and director of athletics at George Mason University.
The ASC dinner will recognize the 2017 outstanding Alexandria high school Athletes of the Year. Additionally, Jon Peterson, chairman of the Executive Committee of The Peterson Companies, will be inducted into the ASC Hall of Fame.
Peterson, whose family's real estate company developed National Harbor, is a longtime volunteer, past president and member of the board of directors of the Joe Gibbs nonprofit Youth for Tomorrow.
The ASC gala will be held May 30 at the Westin Hotel, 400 Courthouse Square. A reception will begin at 6 p.m. followed by dinner and award presentations at 7 p.m.
The event is open to the public. For tickets or more information, visit www.alexandriavasports.org.